A Chinese company located in Ogun State has been shut down after its owner refused to comply with a coronavirus-induced ban on large gathering issued by the state government.
This came after a Twitter user @Psalm_B raised an alarm on micro-blogging website, Twitter.
The Twitter user shared a notice in which the management of the company "Huafu Plastics Industry Co, LTD" told its staff that the "holiday" has been cancelled. Workers were also told to come to work on Sunday as "overtime".
He twitted:
AMIDST CORONA VIRUS PANDEMIC, SOME CHINESE GROUP OF COMPANIES REFUSE TO LOCKDOWN IN NIGERIA
This is real and serious guys and I'm ready to tender any prove/evidence. The workers working in these factory needs your help cause they certainly can't do anything about it..
One of these companies which produces all kinds POLYTENE NYLON wrote that above N.B(pic attached) concerning their salary which was initially supposed to be paid today. The salary is the only reason these workers will continue working for the remaining days of the month…
Population of people working in these said Chinese companies are over 300 people trooping in and out(day and night). They are five different Chinese companies running their operation in a designated location, These fckrs ain't giving a hell about the FG announcement
This CHINESE now refuse to lockdown cuz initially they planned working indoor(all workers work inside the factory with no going out or coming in)within the period of lockdown,but the workers disagreed as their safety is important and favorable than d conditions they were offering
They weren't satisfied, now they are forcing workers to work(either you come to work or get sacked) saying government hasn't contacted them personally cause they are private organization, these people ain't even concern about the fact the whole issue originated from them..
They are here acting there's nothing anyone can do to stop them and I believe their location is what causing all of these nonsense, they believe no government officials can locate them…
These bastards inflates the prices of their goods already and does not want to stop production risking the lives of their workers. They only provide nose mask(we use that for three days before given another) and a one-time sanitizer to wash your hands when going in…
Another scary thing is there's a particular CHINESE among them who got back from China just less than 14days, we don't know how clean this man is and here they are trying to enslave us in our own country just for their personal interest.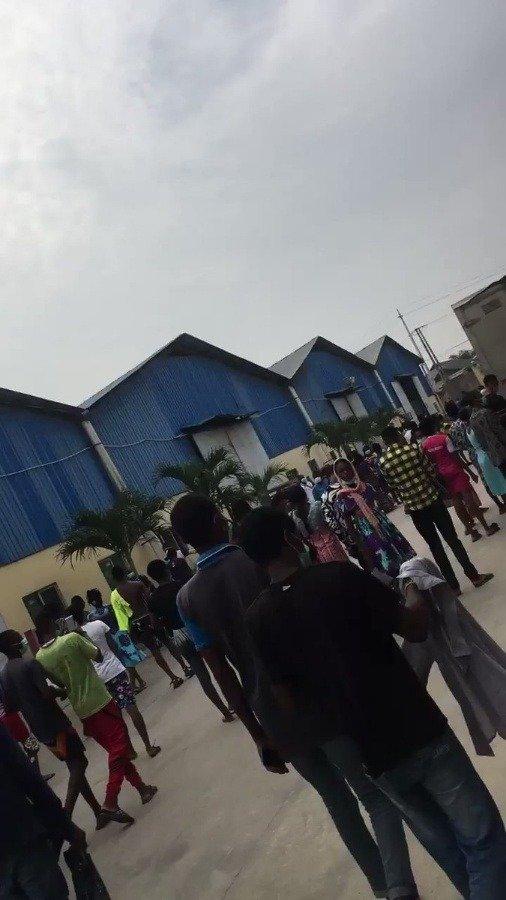 Reacting on the intel, the company was shut down after the Director General of the Federal Competition and Consumer Protection Commission (FCCPC), Babatunde Irukera acted on the credible information about the company.
Psalm B later confirmed that the company has been shut down by the government. The workers were however reportedly sent home without pay.
Watch the video he shared below ;