TECNO's latest release, the SPARK 10 series, is designed for such trailblazers; with cutting-edge technology and unwavering commitment to progress, the SPARK 10 series offers users an unparalleled experience.
The first sale promotion offers various benefits, including the latest TECNO x Fireboy Headset. With the headset, music enthusiasts can enjoy their favourite tunes with superior sound quality, while gamers will immerse themselves in realistic soundscapes. Customers also receive 100 days of accident protection and a 24-month warranty, ensuring the device is secure and reliable.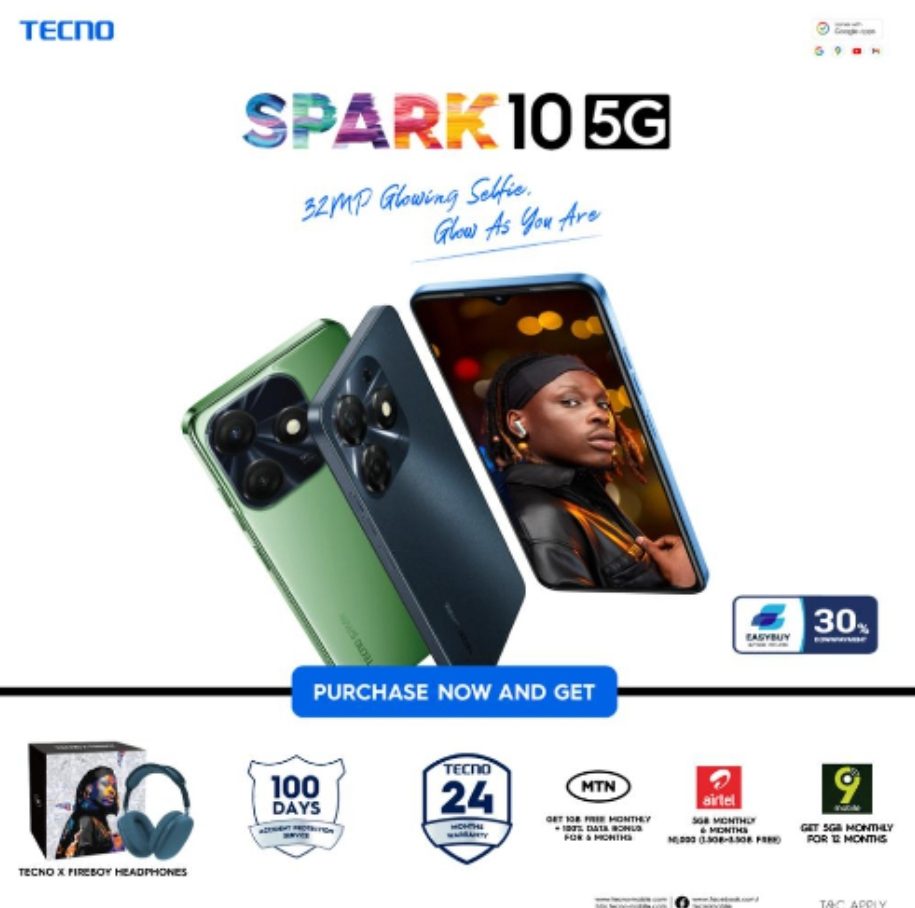 But wait, there is more! For MTN users, TECNO offers free 1GB of data monthly, with a 100% data bonus for six months. Airtel users receive an additional 3.5GB when they purchase 1.5GB for 1000 naira for six months, and all 9 mobile users get 5GB monthly for 12 months. These offers are the ultimate bundle for those who love browsing the internet, streaming videos, and communicating through social media.

The SPARK 10 series has a powerful G88 gaming processor, delivering lightning-fast performance and optimal gaming experiences. With 256GB of ROM and 16GB of RAM, users can store massive amounts of data, install heavy games, and run multiple apps simultaneously without compromising speed.
But that's not all. The SPARK 10 series also features a 32MP selfie cam, ensuring users capture stunning selfies that make them glow. The Hard-wearing starry glass adds an exquisite touch to the device, making it stand out.
Be among the first to purchase cutting-edge devices during the TECNO first sale promotion and unlock a world of premium perks that will take your tech game to the next level. Take advantage of the chance to enjoy the latest technology in your hands.
Hurry to any TECNO-authorised store to get the SPARK 10 series today, and experience the future of smartphones!