Today, the FCT High Court suspends, Oshiomhele, APC National Chairman. This follows earlier suspensions from his states' APC chapter.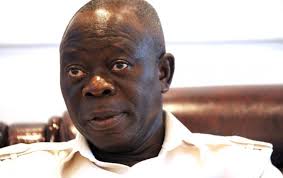 On Wednesday, the 4th of March, 2020, the Federal Capital Territory High Court in Jabi formally suspends the national chairman of the ruling All Progressive Congress (APC).
This report first appeared on Daily Trust and includes the order from the presiding judge, Justice Danlami Senchi that Oshiomhole to step aside until evaluations have been made to either remove him from his position.
Edo State suspends Oshiomhole as APC Chairman
This was coming after Edo State chapter of the ruling party suspected Oshiomhole as a member of the All progressive party in the state.
This application was made and filed by Oluwale Afolabi on Thursday, January 16 as the first respondent while the APC in Edo State serves as the second respondent.
In his application, Afolabi cited that Oshiomhole whilst suspended by the party cannot continue to function as the party's chairman and has not challenged the move for his suspension (Legit.ng).
According to Justice Senchi, Oshiomhole has continued to wrongfully hold the position of the national chairman of the party since the order in January.
Therefore, the court ordered that Oshiomhole should stop going about as the chairman of the party and that party members should not acknowledge him as the APC chairman.
The APC also requested that the court does not grant Oshiomhole access to the party's secretariat
Origin's of Oshiomhole's suspension
According to Legit.ng, Oshiomhole was accused earlier on following a phony survey that established that he could be the primary cause of the ongoing crisis in Edo state.
This survey was previously reported to have been allegedly prepared by two southwest governors in a bid to remove Oshiomhole as the national chairman.
A former speaker of the State House of Assembly, Thomas Okosun and former spokesman to Governor Godwin Obaseki, John Maiyaki had earlier alleged that two southwest governors were behind the plot.
Nevertheless, another statement by the Edo State APC Chairman, Anselm Ojezua cited that the former Governor is to be blamed for the problems in the state.
He said "The problems which now threatens the very existence of the APC in Edo state started with the conduct of primaries to elective offices in 2018. In accordance with the resolution passed by the national executive committee of the party, the leadership of the party in the state adopted the indirect mode of primaries but Comrade Oshiomhole decreed that it must be done by direct primaries.
"Having failed to discredit the Governor at the polls the same individuals resorted to a campaign of calumny and infamy against him, his deputy and top government functionaries, deploying very raw and uncouth language in a sustained media blitz while showering praises on the national chairman on each of those occasions leaving no one in doubt as to whose interest they were serving," he said.