Recently, South Africa's President Cyril Ramaphosa has found himself at the center of a social media frenzy. During the swearing-in ceremony for the new cabinet ministers and deputies in Cape Town, President Ramaphosa was caught checking out the new Transport Minister Sindisiwe Chikunga in what many are calling a "stylish" and "smooth" move.
As Chief Justice Raymond Zondo called out Minister Chikunga's name, she strode confidently to the front of the room, wearing an olive green loose dress that highlighted her curves. Despite the formality of the event, Chikunga's walk was described as "majestic" by some attendees.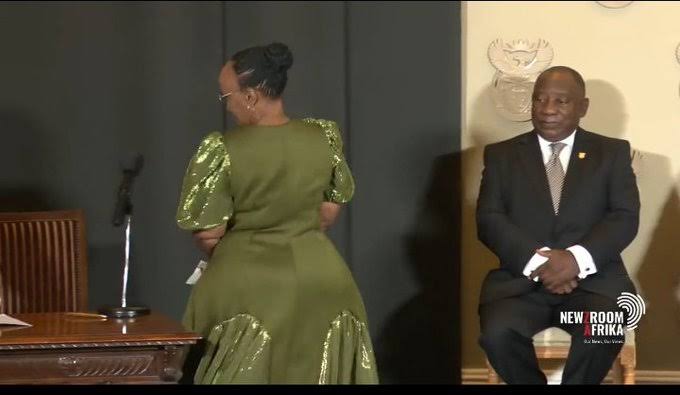 While seated with Vice President Paul Mashatile at the front of the room, President Ramaphosa was unable to resist stealing a glance at the new minister's backside. The moment was caught on camera and quickly spread across social media, with many people commenting on the president's reaction.
Some social media users criticized President Ramaphosa's behavior, saying it was inappropriate and disrespectful to Minister Chikunga. Others defended the president, saying that he was simply human and that it was natural to be attracted to someone.
Regardless of the reaction, the incident has caused a stir on social media, with many people talking about the new Transport Minister and the president's reaction to her. It remains to be seen whether this will have any impact on the working relationship between Ramaphosa and Chikunga, or whether it will blow over in time.
You can watch the video HERE