The PHANTOM series isn't just another lineup of smartphones; it's a journey through cutting-edge technology, style, and sheer class. Each device that emerges from this series isn't merely a gadget; it's a statement of innovation, a testament to growth, and a symbol of continuous improvement. The PHANTOM brand isn't content with ordinary; it's here to enhance your lifestyle, one device at a time.
Every iteration of the PHANTOM series has been a magnificent fusion of technology, style, and design. It's as if each release is a challenge to push the boundaries of what's possible. And now, with the impending launch of the PHANTOM V Flip 5G, TECNO is proving that the innovation train is nowhere near the peak yet. There will still be more but for now we enjoy the PHANTOM V Flip 5G.
Regarding style and design, the PHANTOM V Flip 5G sets a new standard. This smartphone is a masterpiece of aesthetics and functionality. Its sleek and elegant profile not only exudes class but also offers a comfortable grip. TECNO has meticulously crafted every detail, ensuring that this device is a fashion statement in itself. The PHANTOM V Flip 5G is designed to fit perfectly in your pocket, seamlessly blending into your daily life. With its Haute Black and Misty Dawn colour options, you can choose the style that suits your taste and lifestyle.
The PHANTOM V Flip 5G features a remarkable 6.9-inch AMOLED flexible screen that will leave you in awe. This display isn't just visually stunning; it's a gateway to immersive experiences. Whether you're streaming your favourite movies, playing graphics-intensive games, or simply browsing the web, the PHANTOM V Flip 5G's display ensures vibrant colours and crisp details. What sets it apart is the "The Planet" cover screen, which transforms the device into a control centre when closed. This unique feature offers a new level of functionality, making multitasking and device control effortless.
Prepare to embrace the future with the PHANTOM V Flip 5G's 5G connectivity. With lightning-fast internet speeds, you can enjoy seamless video calls, streaming, and online gaming. But that's not all; this device is equipped with a powerful 4000mAh battery and a 45W flash charger making it the fastest-charging flip phone in the world. So, say goodbye to the anxiety of running out of power – the PHANTOM V Flip 5G ensures you stay connected throughout the day.
Inside, the PHANTOM V Flip 5G is a punch with the Dimensity 8050 chip and a 6nm processor. Coupled with 8GB of RAM, it ensures swift and responsive performance for all your tasks and activities. With a generous 256GB of internal storage, you have ample space to store your apps, games, photos, and videos. Powered by Android 13, the PHANTOM V Flip 5G offers a smooth and intuitive user experience that keeps you connected and entertained, no matter where you are.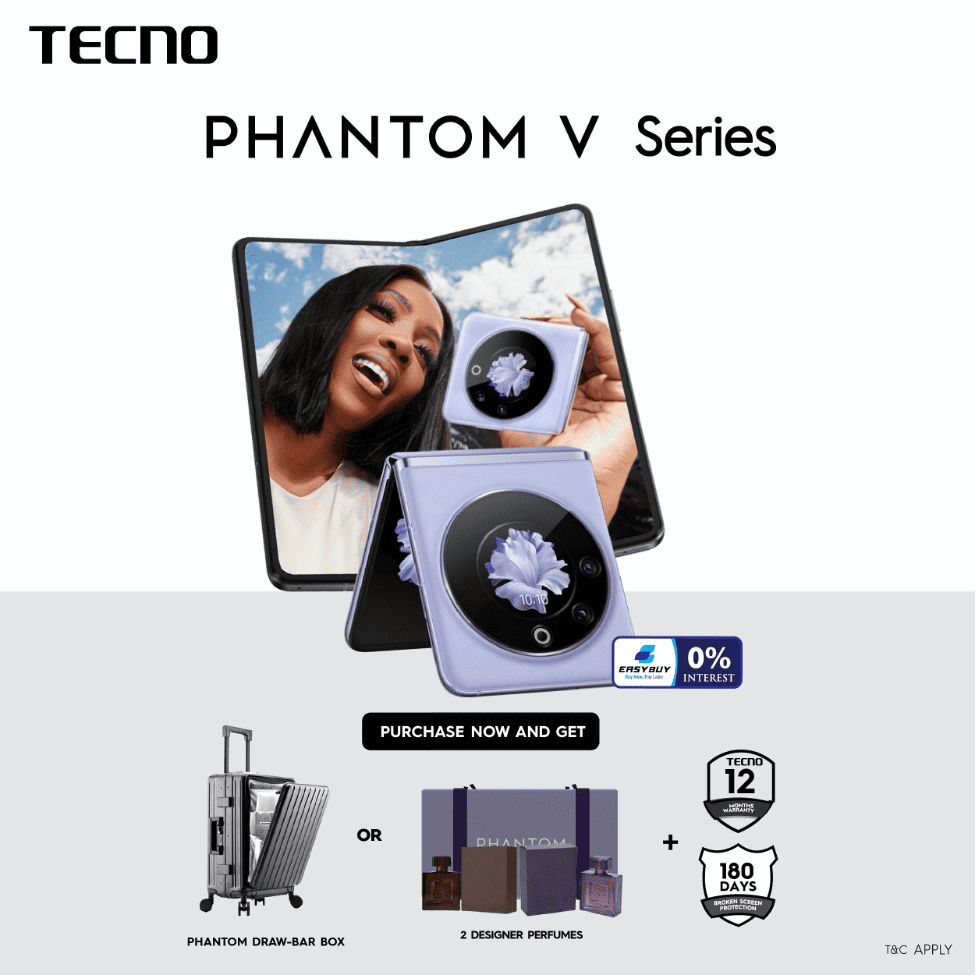 Creativity is on the rise with the new PHANTOM V Flip, do not waste any time to get on the flip side that is perfect for your pocket. Follow TECNO on Facebook, Instagram and Twitter for the latest updates and be prepared to embark on an extraordinary adventure of art and technology like never before!