TECNO's premium sub-brand, PHANTOM, today launched a new flagship smartphone, the PHANTOM V Fold, marking the brand's emphatic entrance into the foldable device market. The phone delivers an immersive visual experience through an optimally sized flagship dual screen and an ultra-clear 5-lens photography system for unparalleled image-making. Launched during TECNO's debut appearance at MWC Barcelona 2023, PHANTOM V Fold is the latest innovation from the brand as it continues to revolutionize the premium smartphone experience through outstanding technologies and exceptional performance.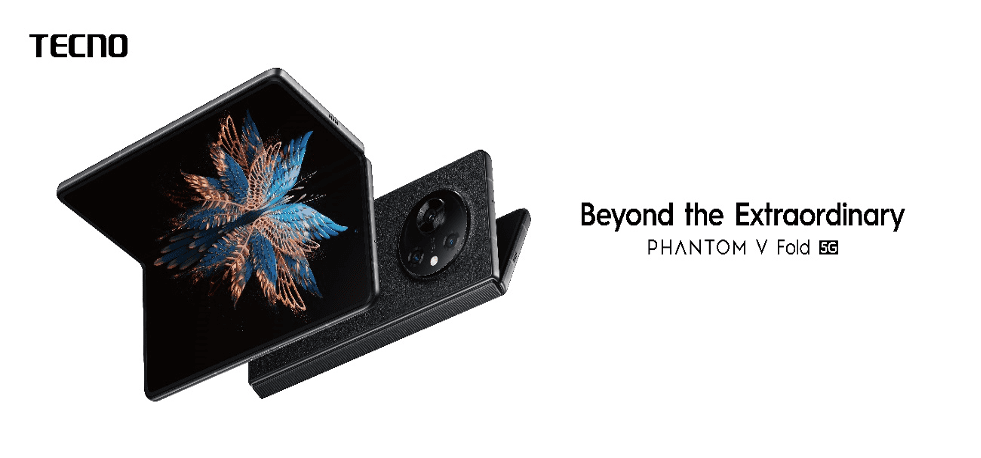 PHANTOM V Fold reimagines the foldable device experience with premium features and powerful systems.
Two Flagship Screens Create New Possibilities
Empowering users to discover greater smartphone fluency, whether gaming, watching movies or at work, PHANTOM V Fold's flagship dual LTPO screens have an adaptive 10-120Hz high refresh rate, delivering smooth motions and fluid transitions both when folded and unfolded.
The phone's 6.42-inch sub-screen has a unique micro-curved design and a 21:9 aspect ratio for a classic single-screen flagship smartphone experience. The result of extensive research into usage scenarios and global smartphone use, the sub-screen dimensions are optimal for single-handed operation, sitting naturally in the palm while allowing the users to comfortably take command using just a thumb.  Unfolded, PHANTOM V Fold reveals an outstanding 7.85-inch display with an optimal 8:7 aspect ratio on an ultra-flat screen with a virtually invisible crease.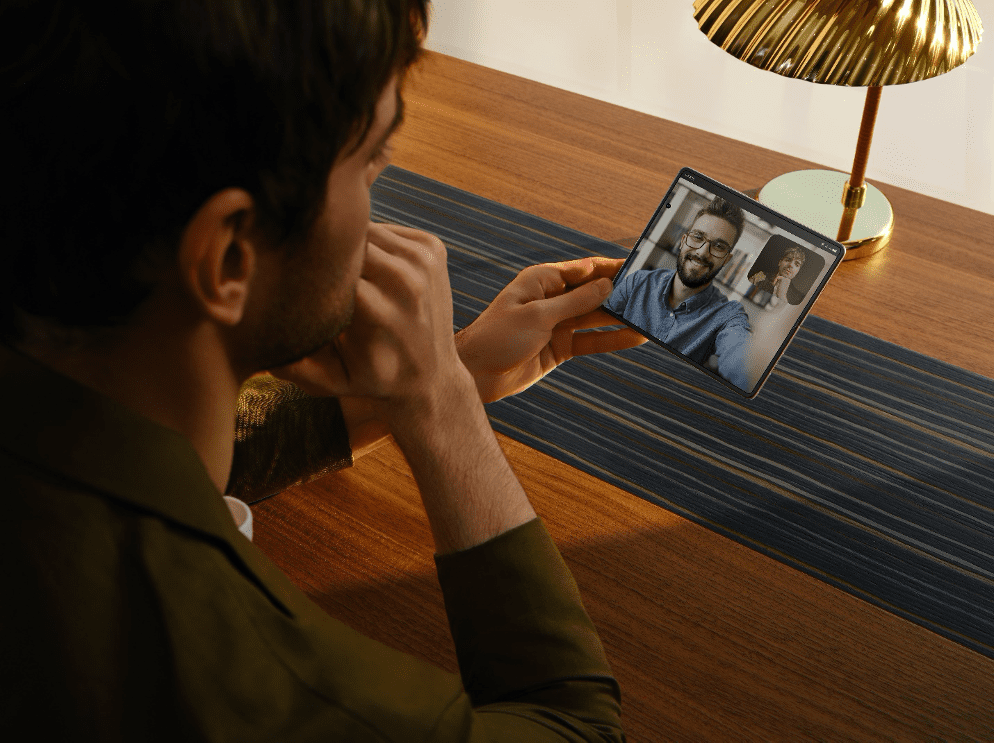 PHANTOM V Fold's 7.85-inch screen creates an immersive viewing experience.
TECNO's Technologies Inspire an Almost-Invisible Screen Crease
PHANTOM V Fold's main inner screen is enhanced by the results of TECNO's continuous pursuit of the next best technologies. The brand's self-developed, aerospace-grade drop-shaped hinge creates an ultra-flat main inner screen surface that is virtually crease-free. The hinge's innovative reverse snap structure significantly improves the phone's structural stability, while its aerospace-grade construction materials create strength with a lightweight.
The self-developed fixed-axis rotation and slide technology hinge design ensure PHANTOM V Fold's main inner screen fits tightly together, ultimately delivering a crease that is almost unnoticeable. When new, the device's screen crease measures just 0.11mm, and the device is capable of 200,000 folds.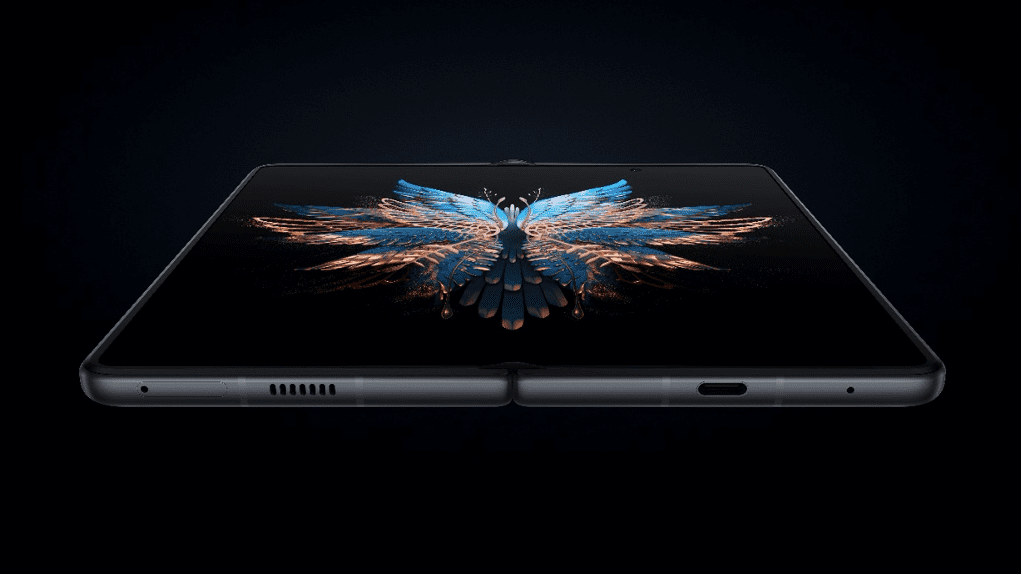 TECNO's self-developed aerospace-grade hinge creates an ultra-flat main inner screen with a crease measuring just 0.11mm.
Five Lenses for Unprecedented Image-Making
PHANTOM V Fold's ultra-clear 5-lens photography system creates an unprecedented image-making experience with lenses to meet a wide range of uses. With three rear lenses and two front lenses, users can explore the world through new lenses.
Enabling spectacular nighttime image making, PHANTOM V Fold's 50MP Super Night main camera features a super light-sensitive custom 1/1.3-inch sensor, large f/1.85 aperture, and 7P composition. The phone's night imaging capabilities are further enhanced by AI-powered Super Night Portrait, Super Night Mode, and Super Night 4K Video, which reduce noise and capture crisp lines to make the night come alive in exquisite detail. Making up the other rear lenses are a powerful 50MP telephoto lens with 2x optical and 20x digital zoom, and a 13MP ultra wide-angle lens.
In addition to the rear lenses, a further two front lenses – one on the sub-screen and one on the main inner screen – bring more fun to photography, with exciting image-making possibilities. While rear lenses can now be easily used for high-quality selfies, the foldable screen design allows for large-screen image capturing with a preview displayed to the subjects on the sub-screen, while the front camera on the main inner screen enhances video calling and video conferencing.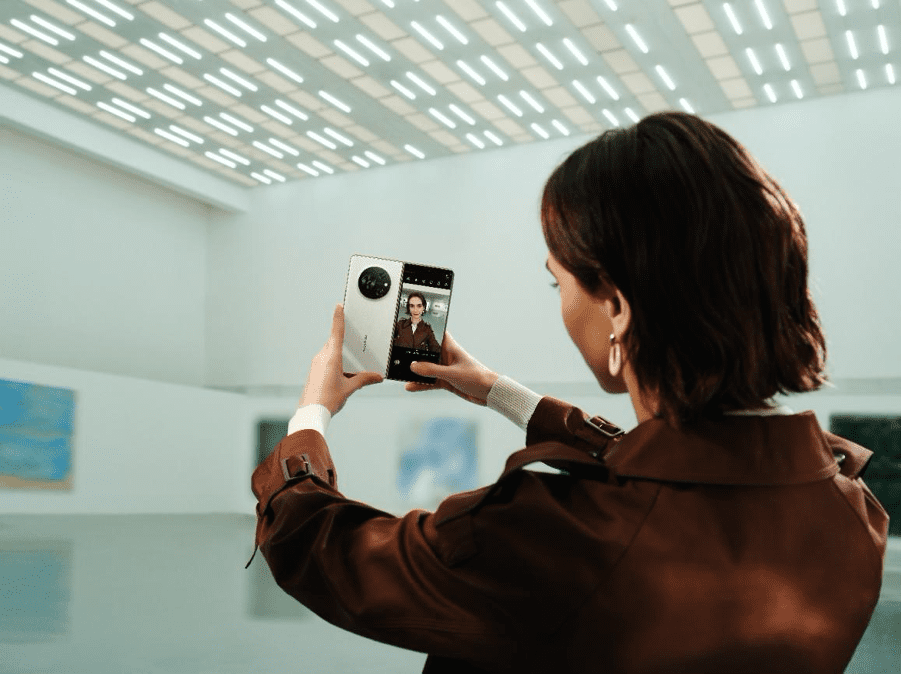 An ultra-clear 5-lens photography system creates exciting ways to capture outstanding photos and videos.
HiOS13 Fold Provides a Super-Optimized Experience
Though the large-screen foldable smartphone experience has much to offer, it has often been hampered by having operating systems unsuitable for the devices. As a result, TECNO developed HiOS13 Fold – a highly optimized and customized operating system based on Google's Android 13, specially designed for a foldable device.
Large-screen capabilities such as split screens, picture-in-picture, parallel windows, and drag and drop across screens, as well as differentiated interactive animation designs, create a system that empowers users' productivity and overall enjoyment. Foldable customizations have been made to the top 1,000 apps with the highest download frequency globally, of which 90% have been adapted to support split-screen and multi-window modes. In total, over 2000 apps have been adapted for HiOS13 Fold.
MediaTek Dimensity 9000+ Delivers a First for the Industry
PHANTOM V Fold is the world's first left-right foldable smartphone to be powered by MediaTek's flagship Dimensity 9000+ processor. In developing the phone, TECNO deepened its long-term collaboration with industry giant MediaTek, with the chipmaker developing a dual-5G processor with dual-SIM functionality customized for the PHANTOM V Fold's large-screen design. The processor delivers exceptional performance that allows efficient multitasking and seamless switching between screens.
Besides the processor, PHANTOM V Fold's performance is further enhanced by 12GB LPDDR5X RAM, as well as 256/512GB UFS 3.1 flash storage. It is also equipped with a powerful 5000mAh battery, with rapid 45W charging capable of boosting the phone to 40% in just 15 minutes and fully charging in just 55 minutes.
With the powerful chip and charging capabilities, PHANTOM V Fold was awarded an incredible 1,023,478 benchmark score by AnTuTu, the most professional benchmarking software/website in China that provides accurate and realistic performance evaluations for smartphones. The score highlights PHANTOM V Fold's outstanding 'hardcore' gaming performance, as well as its exceptional user experience delivered across both traditional smartphone and large-screen tablet-style displays.
Empowering Pioneers – A Beyond The Extraordinary Event
To celebrate the launch of PHANTOM V Fold, TECNO hosted a special event on day two of MWC Barcelona 2023. The event focused on how TECNO, along with its strategic partners, is pushing the boundaries of smartphone innovation with the ultimate aim of delivering a user experience that is Beyond The Extraordinary.
Attendees at the event included media and executives from TECNO's collaborative partners, who were welcomed with an opening speech from TECNO's General Manager, Jack Guo, before keynote speeches from MediaTek and Counterpoint Research. The speakers then took part in a fascinating panel discussion where they offered further insights about a wide range of subjects, from the meaning of the launch to the future landscape of foldable smartphones, offering an informative yet thought-provoking end to the event.
While speaking at the PHANTOM V Fold launch event at MWC, the General Manager of TECNO, Jack Guo, said, "In launching PHANTOM V Fold, our first foldable smartphone, during our very first appearance at MWC, we re-affirm our commitment to innovation; to the continuous pursuit of the next great technologies; and to empowering people, all around global frontier markets, to live beyond the extraordinary."
Upon conclusion of the event, guests were invited to join TECNO at their MWC booth for their first hands-on experience of the new PHANTOM V Fold.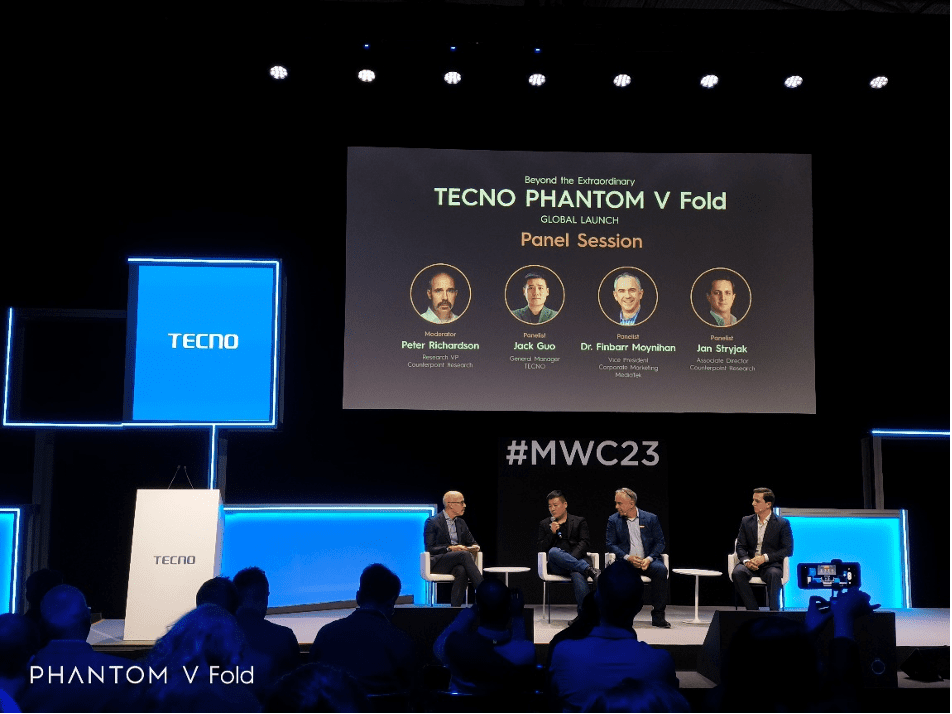 TECNO and valued partners lead the conversation on the future of smart foldable during a panel discussion session.
The development of PHANTOM V Fold reflects TECNO's intensive efforts to bring desirable, high-end technologies to frontier markets through its PHANTOM sub-brand. Combining advanced innovations with bold style, PHANTOM V Fold delivers a premium foldable experience to new audiences. It empowers users to show their identity and become pioneers in business and in society while enjoying a first-class foldable device experience.