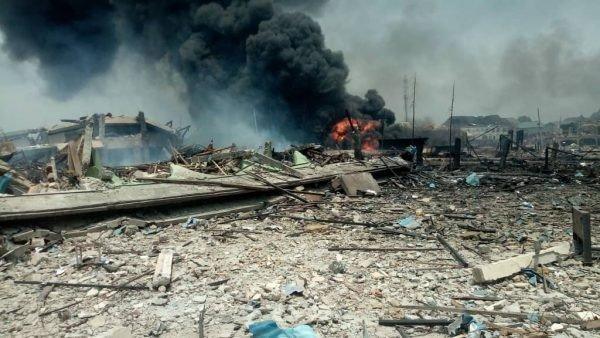 The National Emergency Management Agency (NEMA) yesterday, made it clear that the gas explosion that occurred in Abule Ado community of Lagos State on Sunday March 15, was caused by too much pressure on the pipeline.
Southwest Coordinator of NEMA, identified as Ibrahim Farinloye debunked claim of the gas explosion being as a result of a bomb blast or Improvised Explosives Devices (IED).
Ibrahim Farilonye further said that preliminary security analysis showed that an eight-tonne truck laden with core stone and parked on the pipeline, exerted too much pressure on it. Fuel which ran out from the pipeline after the pressure stayed on overnight, saturated the atmosphere, formed a whitish substance and exploded.
Commissioner of Police (CP) in charge of the Explosives Ordnance Disposal (EOD) identified as Maikudi Shehu also backed claims of the explosion not being caused by a bomb or an IED.
He said;
"I can tell you that there was no IED there. The blast was not caused by IED. I am still expecting the report of findings from my officers to know exactly what happened."
Also recounting how the incident occurred, a resident of the community said the truck got stuck on the pipeline overnight.
An eyewitness also said;
"The truck stayed there for so long and with its weight on the pipeline, the fuel in the pipe which is about eight-foot deep was trying to force its way out. That was how a smoke-like substance started forming from under the truck and soon developed into a cloud that covered the entire area and then the blast."
This news emerges after the management of the Nigerian National Petroleum Corporation (NNPC) said gas cylinders which were stacked in a gas processing plant located near the corporation's system 2B Pipeline Right of Way caused the explosion after being hit by a truck, as we reported earlier.