Nigerians on Twitter are reacting to the viral video of FGC Akure student emerges breaking the phones of her classmates in front of the Assembly ground.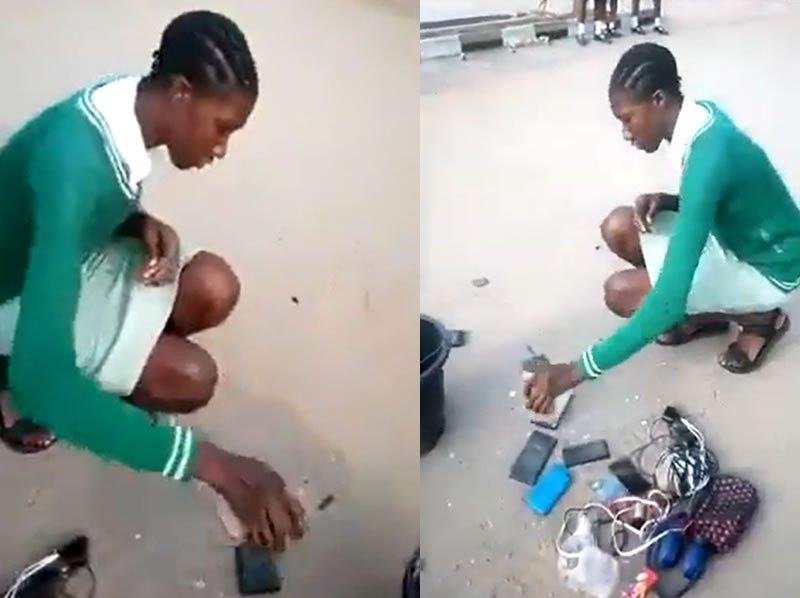 In the video, filmed in Federal Government Girls College in Akure Ondo State, a teacher instructed a female student to destroy the confiscated phones of other students in front of her school mates.
The video clip provides evidence that this incident occurred at the assembly grounds with hundreds of students and school officials bearing witness to the carnage.
The video is said to have been signed on the twitter handle of Oluyemi Fasipe @YemieFash. According to him, the students whose phones were being destroyed were also suspended from the school's hostel.
Fasipe maintains the viewpoint that though he understands that mobile phones are prohibited in Secondary Schools, there is no moral standing backing the activities to destroy the phones.
However, Naijaonlineguide.com first sighted the video on the Twitter handle of Dele Momodu.
After the posting of this video on the Twitter platform, Nigerians have expressed mixed reactions about the actions of the school officials.
Some Nigerians state that the actions are justified while others state that the punishment is a step too far.
You would recall that mobile phones are prohibited in schools across Nigeria. However, do you think that asking students to destroy their phones? Lend your voice to this alarming event by placing your comments below?