Are you looking for the best apps to watch live football matches on your phone? Well, we've got you covered. Sports fans are always looking for methods to watch their favorite teams in action in real-time. In addition, sports fans want to be able to keep up to date with the most recent results at all times.
You may now take advantage of all these features on your smartphone because you live in a technologically advanced world. They may also view movies from anywhere in the world at any time thanks to the latest sports streaming apps.
However, the market is full of endless sports streaming applications; it is excellent to download the best one on your device to get fast information on the performance of your favorite team.
We've outlined some of the best apps to watch live football matches on your phone below. This information will assist you in determining which free sports streaming app is most suited to your daily schedule.
Apps to watch live football matches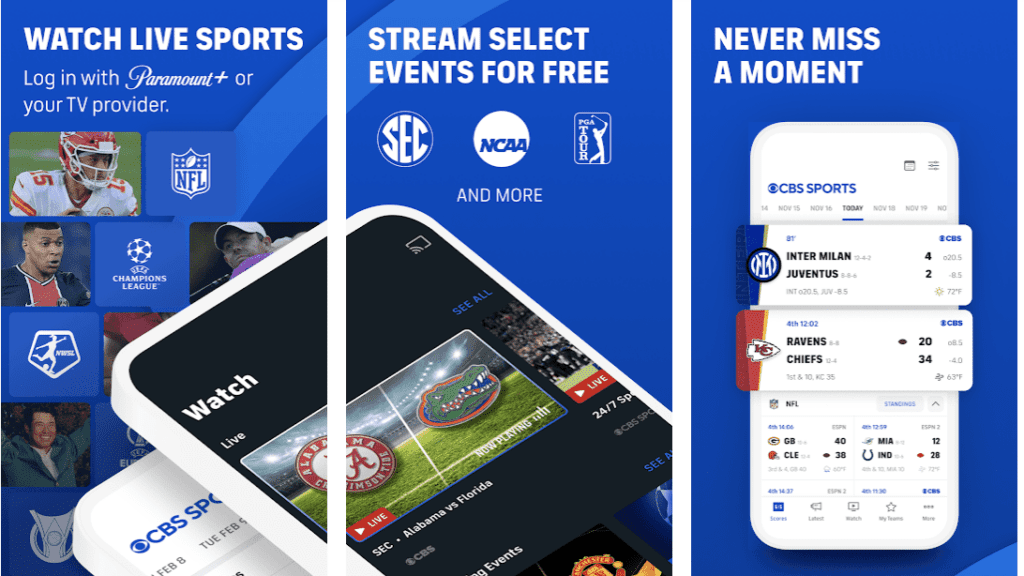 First on our list of best apps to watch live football matches on phone is mobdro. It's easy to see why Mobdro is so popular, and it's completely free! People worldwide use it to stream videos and find the content they want on the internet quickly and easily. This app can be used on Mac, Windows, or Android devices. You'll be able to use a variety of useful tools here, including bookmarking and more. This implies that you can save your favorite video content and return to watch at a later time, even if it's been many days or even weeks. Using Mobdro TVfree sport, you may access a vast library of films.
It has a wide range of sports-related content, including tennis, basketball, soccer, and more. You can also get information via live alerts, highlights, videos, standings, and tournament brackets. On a user-friendly site, you can find all of these interesting items. You can see every goal within five minutes of it happening on the field using this app. 365 Scores allows you to customize notifications and put all your favorite sports channels together in one spot. For its fixtures and live tables and its worldwide coverage of football, it is a popular destination. This makes it a good choice for best apps to watch live football matches on phone.
In the field of sports broadcasting, ESPN is well-known as a legend. The sports broadcasting services offered by this organization are now among the best in the industry. At least 100 million people in the United States watch their content every month, and that number is steadily rising. In addition to ESPN, it has ESPN2, ESPN Classic, and ESPN en Espanol. They are available 24 hours a day, seven days a week, and provide in-depth analysis of a wide range of sporting events, current events, and other topics.
If you want one of the best apps to watch live football matches on phone, try La Liga. Using the La Liga TV app, customers can watch all women's football matches live. This app, available for iOS and Android, provides real-time updates on sports news, scores, and La Liga headlines. In addition, live match videos can be saved and viewed later on this app, just like on YouTube. You may download this software for free, and it's small and simple. This platform makes it easy to watch the season's best games.
In reality, the CBS Sports app is a cutting-edge streaming app available on both Android and iOS devices. In addition to watching live games, fans may get up-to-date information about their favorite teams and other sports.
On a single screen, you can keep tabs on up to eight games at once. You may customize the app's look and feel to suit your preferences, thanks to the custom navigation. Both iOS and Android users can download it for free.
SonyLIV Live TV Sports Movies
Another best app to watch live football matches on phone is SonyLIV. You can watch your favorite shows, live sports, regional movies from India and the US, original web series for kids, and fitness videos from top celebrity trainers all in one place with this feature-rich app. It is also compatible with Android TV, so you can enjoy your favorite shows on your TV while working out or working out simultaneously.
You can watch all the action from the 2018 FIFA World Cup in Russia as well as highlights from the UEFA Champions League, UEFA Europa League, French Ligue 1, and La Liga live on the app.
Conclusion
Nowadays, the internet has made many things so much easier. In today's world, there are several options to watch live games. One option is to watch Live Football via Android or iOS mobile app. So if you're interested, you can download any of our best apps to watch football matches on your phone.