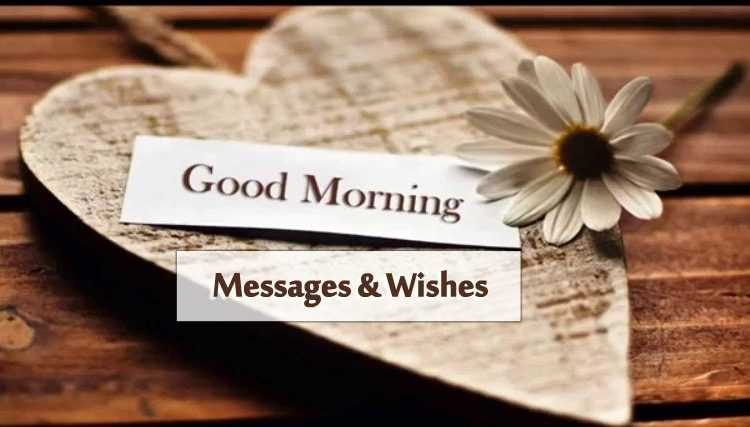 50 Best Good Morning Messages To Send
There is no one on earth that doesn't like waking up to a very good heartfelt good morning messages to start the day on a good note. Good morning messages are a way to show people you care about them, you thought of them immediately you wake up and will definitely put a smile on their faces quite possibly throughout the whole day.
However, coming up with good morning messages can sometimes be hard, especially if you really like and care about the person you're sending it to. Thankfully, we've composed this list of the top 50 simple albeit best Good Morning Messages that'll definitely put a smile on anyone's face.
50 Best Good Morning Messages To Send
I woke up thousands of miles away from you, but it doesn't matter because you are in my heart.
I've told this message to go to the sweetest person in the world and now you are reading it, good morning.
I've told this message to go to the sweetest person in the world and now you are reading it, good morning.
Attention! The sexiest person in the world got up, look in the mirror and tell the person: "Good morning".
I just wanted to tell you that I am the person, who thinks about you in the morning and before going to sleep. Good morning.
Hello! I wanna wish you a good morning, let God protect you and I hope that this day will be full of joy.
Now my heart skipped a beat and I felt that my other half woke up. Good morning, darling.
Do you know why the sun shines every morning? Because it welcomes you!
Every morning I thank the world for giving you to me. You are my sweetest addiction, I can't live without you.
Good morning, sweetie! Don't you mind waking up and making this dull world and my life a little bit brighter?
Good morning! It's amazing to know that there's a person, who also thinks of you every morning. This awareness makes waking up wonderful.
Every morning is a gift from God, so let's spend it in harmony, peace, and love. Have an amazing day!
Whenever I wake up in the morning, the greatest thing I feel is the love we both share. I love you with everything that I have got. Good morning dear.
Dreams are your last thought at night before going to bed, I slept with your thought and woke with your thought. I'm sick of sleeping and waking without you by my side, I want to be with you every morning, cuddling you. I adore you, good morning.
my morning joy, the only honey that I lick, the only room I sleep and the one and only forever love of my life, I think about you when I roll around on the bed. Gud morninng my sweet heart .
Morning is beautiful but incomplete without you in my life, my breakfast won't be complete without sending you this love message, I care a lot about you. Good morning.
Do you know you are the sunshine in my life, even before I open my curtains you are already shining in my heart, I love you and baby. Good morning.
The sun would have been darkness to me without you The cool of the day would have been hotness without you. My sleeping and waking are all because of your love. Good morning my Sweetness.
I couldn't care less whether the sun rises or not, my morning begins simply after I message my young lady who I adore a great deal. Good Morning My Queen.
If by chance, the early morning sky was a representation of each individual I know, you are the sun and every other person are the blurring stars, soon to vanish by your bursting love. Good Morning my Queen.
Morning texts does not just mean saying Good Morning, it is a quite way of saying: you are the first thing on my mind when I wake up! Have a decent day my queen!
A simple good morning becomes a special greeting when someone so dear it is heartily given…Because u have to me a wonderful meaning. Take care!
Life is like a book. Each day like a new page. So let the first words you write be Good Morning to you my love!
If you were right here, I would run my fingers through your hair and gaze into your eyes as I gave you a sweet morning kiss. Good morning, girl I miss you.

Every day I wake up and forget all the reasons that make me sad because I just need one reason to make me happy – YOU. Good morning.
Wake up along with the sunrise and start your day! My morning wish is going to get completed with your reply message So don't forget to wish me back my dear! Good morning!
I may not carry flowers, I may not carry sweets to wish you a good morning, but my wishes will make your day colourful As flowers and a sweet day more than sweets.
Wake up, sweetheart! It's time to open your arms and embrace the new day. Welcome happiness and success, Good morning!
Just the thought of you brightens up my morning.
A day is nothing good without the sun, As the night is nothing better without the moon. My morning night and noon is nothing without you. Good morning my life and my love.
For the last 24 hrs, 1440 minutes, 86400 seconds, I've missed you. Good Morning.
Good morning Sunshine.
I'm sending you this text first thing in the morning, not to say good morning but to make you smile the second you wake up.
Words aren't enough to tell you how wonderful you are. I love you. Good Morning.
Mornings are beautiful and so are you. Hope you wake up early and shine with smile and beauty. This means excitement for me and everybody. Happy morning!
Mornings Are Beautiful because It Starts With Your Love that Stays With Me All Day Long. Good Morning Dear.
You are the first thing to come to my mind as I wake up this morning.
Wake up, sweetheart! It's time to open your arms and embrace the new day. Welcome happiness and success, Good morning!
We're not too close in distance. We're not too near in miles. But text can still touch our hearts and thoughts can bring us smiles. Good morning!
You are the light of my world, The music in my heart and The first thought of my day. Good Morning My Dear.
Lucky to have you in my life!I may not be near you to wish this morning, but my thoughts are always with you forever! Good morning my sweetheart!
This is going to be yet another wonderful day in your life! Wake up and start your works with a bright face carrying the cute smile on it. Rock your day dear! Good morning!
All mornings are like paintings:- you need a little inspiration to get going, a little smile to brighten up & an SMS from someone who cares to colour your day… Good Morning
Did you feel a little warm in the morning? I sent you a couple of hugs in my thoughts! Good Morning my Sweet!
I'm thinking of you and wish you a great day. I want the best for you and hope things go your way.
An early morning message simply means that you were in my thoughts all night long. Good morning to you.
The sun rises into the sky with the warmest smile, he wishes you a good morning, hoping that you have the perfect day. Take care & have a good day.
A Morning is a Wonderful Blessing, either Cloudy or Sunny. It stands for Hope, giving us another start of what we call Life. Have a Good Morning & Day!
A warm hello doesn't come from the lips, it comes from the heart, doesn't have to be told, It has to be shown, doesn't have to be given, it has to be sent."Good Morning"
A good message for a good person, from a good friend for a good reason, at a good time on a good day in a good mood to say "Good Morning"