How would you like to use the best WhatsApp Mod Apps for Android devices in 2021? Sure, you might know much about WhatsApp, but the WhatsApp Mod Apps are equally fascinating apps you might like as well. In this article, we will talk about WhatsApp Mod Apps and the best ones out there.   
WhatsApp has been around for years now. It is currently the most used instant messaging and social media App. It is used to send all types of messages to contacts including:
Voice notes (VN).
Pictures.
Text.
GIF.
Documents.
Phone contacts.
Audio clips.
Overall, you can use your WhatsApp instant messaging app for making audio, and video calls and equally can update friends and family on what's going on with them by uploading pictures and videos on your status.
If there's one thing you probably love about WhatsApp, it is your lack of a location barrier (you can send messages to pretty much anywhere in the world, it's that simple) and highly protects the data of its users through its end-to-end encryption feature.
Well, if WhatsApp seems to give us all these fascinating features…..
Read more: Best WhatsApp Group Links and Chat Names in India
Then What Are Mod Apps?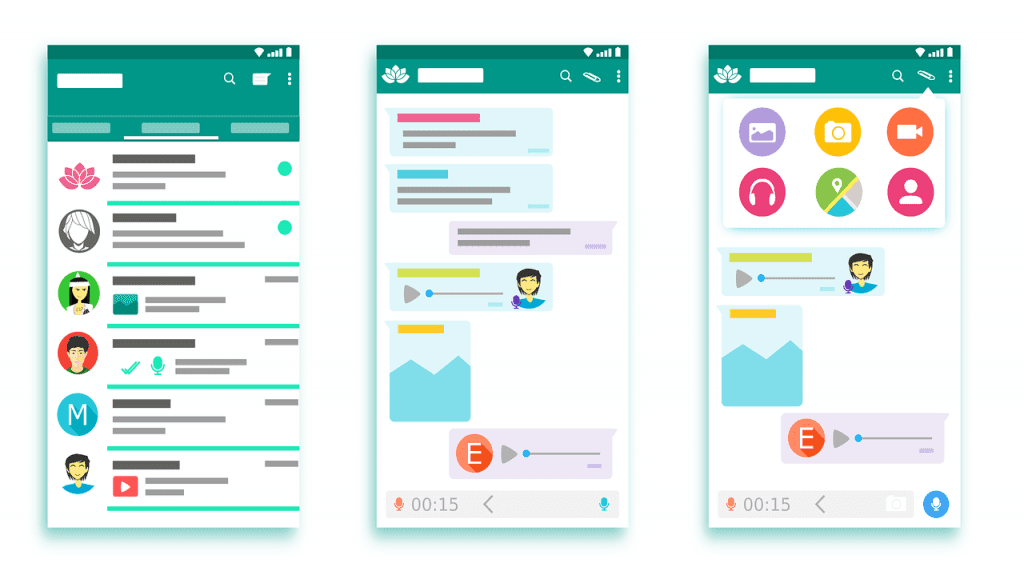 Mod WA, as the name implies, are Modified WhatsApp applications for a better chatting experience and more customization features. They are developed using the official WhatsApp servers and framework. Mod apps offer more and exciting features to their users compared to Original WhatsApp. It is more apt to the ever-changing needs of its users. Mod Apps have improved so much that Android users use them to enjoy an iPhone-like interface on their WhatsApp and also get a more aesthetic feel to them. If you would love to enjoy the fantastic features, then you must know about the best WhatsApp Mod Apps for Android 2021.
Best WhatsApp Mod Apps for Android 2021
1. GB WhatsApp Mod
The best WhatsApp Mod App at the top of our list is the GB WhatsApp. It has incredible features. For example, you can send larger video files, see deleted messages, save and use different stickers easily, and hide your online status. With GB WhatsApp, you are guaranteed the latest features as you keep updating. The current version separates your private chats from group chats for easy access. This is my favorite Mod App, and I've been using the GB WA for a year now. Other features include:
Regular updates.
Multiple WA stories.
More themes.
Password lock for particular chats.
2. YO WhatsApp
Created by Yousef-Al-Basha, this WA Mod is based on a UI like iOS similar to that of iPhones. So, if you're a lover of iPhone interface and themes, then this is definitely the app for you. Some of the features include:
It supports than 100 languages.
You can hide your last seen from selected contacts.
It has Inbuilt DND features.
It has larger Emojis.
3. FMWhatsApp
With the ratings of 3.5, FM WhatsApp is one of the few Mod apps verified by Google play store. This makes it relatively safer for use and easy to download, unlike others. It was developed by FoudMakkad, and its features include:
Status downloader
Ban proof
Hides blue ticks and last seen
File previews before downloading
Allows multiple accounts
4.WhatsApp Aero
This Whatsapp Mod is one that can be customized perfectly to one's personal taste. It is one of the very few ones with the Anti-ban feature. So, if you've been banned from the official WhatsApp for whatever reason, then this is the app for you. It has a couple of other amazing features like:
Hide date and time while copying a message.
Larger stickers and theme packs.
App lock for better privacy.
The forward tag and blue ticks can be hidden.
5. OG WhatsApp
OG WhatsApp was the very first Mod App to allow the smooth operation of two accounts with a different number on the same device. So, if you're a business person and always had problems managing both your business and private account, then this is the best Mod App for you. It also has the following features:
It allows status with characters to be posted
It also allows its users to block calls from specific contacts
It will enable more images (up to ninety) to be sent in just a tap
You can hide chats
Here size, colours, and headers of chat images can be changed.
6. WhatsApp Prime
This is the smaller version of the original WhatsApp. It is also improved for control and has more to offer. Some of its features include:
It can send larger files
FB emojis
Status saver
Ability to zoom in pictures
Its small size makes it a perfect fit for low-end phones.
7. WhatsApp MA
This is the only one of the best WhatsApp Mod Apps for Android that allows the preview of files online before downloading, thus helps users avoid unnecessary files. This WhatsApp has the following features:
File preview before downloads.
It can zoom in on profile pictures.
Users can view last seen without opening Chatbox.
Facebook Messenger emojis.
8. YC WhatsApp
Now all my Instagram lovers come; let's gather here 😂😁. If you're a lover of good quality photos, then this is the app for you. YC WA uses an interface similar to that of Instagram and a much small size, which makes it also suitable for low-end phones with low memory space. This is the real reason it made our list of the best WhatsApp Mod Apps for Android devices. Other features are:
Text fonds modifications.
Allows uploads of longer videos.
Status downloader.
9. WhatsApp Indigo
This is the best Mod Apps designed to give your WhatsApp a beautiful and organized look. It has beautiful icons and sends HD quality videos. Other features include:
Hide activities on WhatsApp.
Hide blue ticks, double ticks, and last seen from contacts.
You can hide archived chats.
You can Clear recently used emojis.
Show the Always online mode.
10. GB WhatsApp Mini
This is a further modified GB WhatsApp made for Android phones with less CPU Power and a smaller RAM. Here, essential features of the GB WhatsApp are maintained while the rest removed for a smaller App size. Other features are:
Can send a file up to 1GB
users to download status media
Messages can still be read even after the sender has deleted it
Will receive automatic updates
Hide blue ticks, double ticks, and online status.
Allow chat lock with patterns or fingerprints
Warning: Risks of using WhatsApp Mod Apps for Android devices
As with all good things, there are usually some pitfalls to bear in mind. For starters, WhatsApp Mod Apps fall in the grey area of the law. WhatsApp regularly bans WhatsApp Mods, and they are not recommended because there's no guarantee of end-to-end encryption, which means you bear a constant risk of being hacked. Secondly, WhatsApp always knows when you are using Mod Apps to send and receive WhatsApp messages. Other risks include:
WhatsApp Mods App can be injected with Spyware or Malware which makes you vulnerable to hacks
Mod Apps are not encrypted, so whatever message you send can be read by another person (Never share passwords, credentials or other sensitive data through Mod Apps)
Bear in mind that using most WhatsApp Mod Apps is not illegal but against WhatsApp policies, and may trigger a permanent ban on your WA usage
Some of these apps ask for unnecessary permissions and can be used to harvest sensitive information from your smartphone.
And now you know the Best WhatsApp Mod Apps for Android phones. These Mod Apps are now in huge demand because the regular WhatsApp doesn't always move fast with the changing needs of users. It is important to note that WhatsApp is aware of its users as well as those using the modified version. Bear in mind that we don't also endorse the use of any of the applications on this list. The entire list is meant for informational purposes, and if you do use them, you do so at your discretion. However, we had love to learn from you – Have you used a WhatsApp Mods App before? Please share your experience in the comment section.