Are you looking for good catering services in Nigeria? This article would show you the top 10 reputable catering services in Nigeria.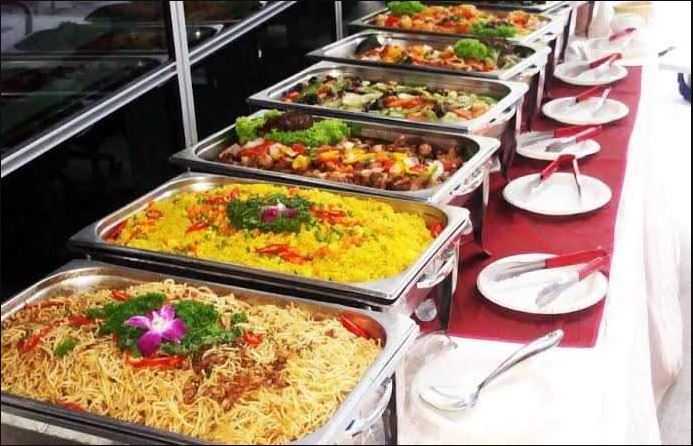 Preparing for an event? searching for a good catering service you could contact?
Well worry no more because there are varieties of catering services out there but, you should be looking for the best.
Getting the best catering service for your event is something you wouldn't want to joke with. You wouldn't want to contact one that could ruin your event, probably by making a bad cake.
With quite a number of these services here in Nigeria it could get difficult choosing one. This is why we are bringing the best to your doorstep.
This blog post is a list of 10 reputable catering services in Nigeria.
In no particular order, let's get you started;
10 Reputable Catering Services In Nigeria.
Wine & Gold Services
Established in 1994, Wine & Gold Services is a reputable catering service company situated in Lagos, Nigeria. With its specialty catering, it has drawn clients from all over the country.
Wine & Gold services have an annual turnover of N400 million and 150 staff strength. No wonder it is considered a top-notch catering service.
They offer services ranging from:
Executive Banquets
Specialty Catering
Barbeque Parties
Complete Party
Entertainment Packages
In addition to these services is that they have a culinary institute where students are taught cooking.
NNPC, Addax Petroleum, Lafarge, M.net among others are some of their notable clients.
Tito Cakes And Events
Founded by Toyin Ayodeji a creative event planner and cake decorator. Tito Cakes is one of the major and most reputable catering services in Nigeria.
Toyin Ayodeji has had a long experience in the industry and with her excellent service, she brings her expertise delivery to her numerous clients to the fore.
Tito Cakes has a catering school where students are taught the art of cake making and confectionery courses. They also offer courses such as:
Catering
Event Management
Cocktail classes
Courdeau Catering
Courdeau Catering a subsidiary of Changoury Group, is very popular in the oil sector. It is a full-service catering and logistics provider at the Nigerian National Petroleum Corporation–NNPC.
They operate across over 14 locations around the country which includes Port-Harcourt, Eket, Warri, and Abuja. Some of their notable clients are Total, Exxon, Shell, Mobil, and Agip.
Courdeau Catering provides:
Specialized packaging methods
Refrigerated delivery
Modern storage facilities
Transportation systems… All these to ensure that all their products arrive at their respective destinations are hygienically packaged and fresh.
Astoria Caterers
Astoria Caterers was established in 1983 and located on Toyin Street, Ikeja, Lagos. They are a major provider of catering services in Nigeria.
Previously, they were known for providing just indoor catering services. But, over the years they have grown to become a reputable provider of outdoor catering services as well.
S.J Abed Enterprise Ltd
Established in 1976, S.J Abed has been known to provide excellent services for its clients. With over 40 years in the catering service sector, it is one of the reputable services we have in the country.
Their services include:
Provision of industrial catering and facility management services
Supply, commissioning, and installation of an industrial kitchen, cold-room, bakery, and laundry equipment.
Restaurants and outdoor catering service
West Africa Catering Nigeria Ltd
Another reputable catering service in Nigeria is West Africa Catering Nigeria ltd. Providing catering and hospitality services in the country is their foremost priority.
West Africa Catering Nigeria, serves over 14,000 people across Nigeria daily and employed over 1,820 team members. They operate in over 40 locations around the country with over 20 companies both offshore and onshore as clients. Their corporate headquarters is situated in Port-Harcourt, Nigeria.
Some of their notable clients include:
Pacific drilling
Nestle
Total
ABTI American University
Lufthansa
Chevron Texaco
Air France
Shell
Oando Drilling
Transocean
Sea Drill
This catering service offers services like:
Food Services
Housekeeping
Laundry
Hospitality
Logistic Services
They provide personnel and catering support services for companies in Nigeria such as:
Fixed construction camps
Universities
Factory Cafeteria
Temporary drilling and construction camps
Onshore residential camps
Offshore and swamp construction barges and oil rigs
Hamptons Catering Services
Hamptons Catering Services is located in Dolphin Estate, Lagos, Nigeria. They are known for their indoor and outdoor catering services and are recognized as one of the catering companies with excellent service delivery.
They have numerous satisfied clients and customers who can testify of their high-quality standard. Hamptons is indeed one of a kind in the catering industry.
Unitop Catering Services
Founded in 2004, Unitop is yet another reputable catering service that made it to the list. It is located in Warri, Delta State, and offers services to both onshore and offshore customers. They satisfy their customers with their very high-quality service.
They have clients in the oil and gas industry as well. Some of these notable clients include:
NNPC
DeltaLift
Shell
Parker drilling
Chevron
Pelfaco Limited
Food Hub Services
Food Hub Services is widely spoken of when it comes to indoor and outdoor catering services in Nigeria especially in the Northern part.
Established in 2015 and located in Wase 2, Abuja, Food Hub has made it to the top in the industry.
They offer delivery service on special requests to their customers at affordable fees. Their services provided is fast and efficient.
Lastly,
Kusha Catering Service
Kusha Catering Service is located in Port-Harcourt, Rivers State, and was established in the year 2012. It is well known in the country especially in the Southern part, for providing exquisite services for their clients.
They offer services for birthdays, weddings, funerals, corporate events, and many others.
They also include grocery supplies to companies, schools, and supermarkets as part of their special services.
So far, these are the top ten (10) reputable services in Nigeria which provide quality and satisfactory services to their clients.
You should probably contact any of them for your next event for quick and reliable service.
If the information in this article came in handy, feel free to leave a comment below;…