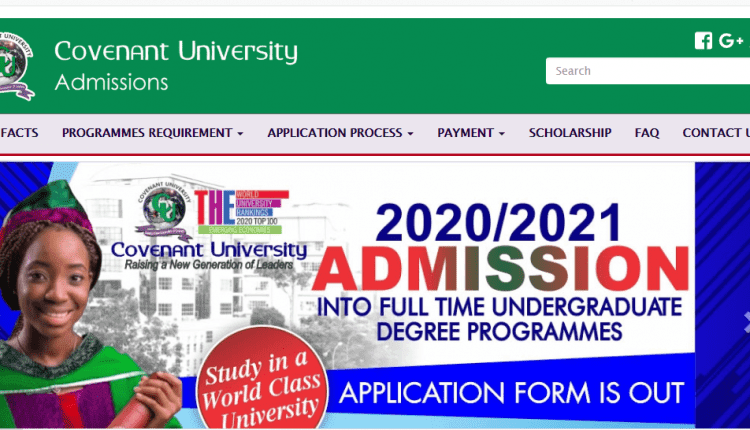 Covenant University Portal, Courses, Registration and School Fees
Are you thinking about the Covenant University Portal, Courses, Registration and School Fees? In this article, we will learn about paying the school fees of Covenant University, alongside other insightful details.
Covenant University is a Private Christian University in Nigeria. The University obtained a license to operate on February 12, 2002 from the University. It is owned by the World Mission Agency in collaboration with Living Faith Church Worldwide.
To date, the University is ranked among Top 10 leading Universities in Nigeria. The University is also located at 10 Idiroko Road, Canaan Land, Ota, Ogun State. If you are planning on joining the University, then you will find all the information in this article relevant. Here we will talk about the Covenant University Portal, Courses, all you need to get eligible, and school fees detail.
Let's begin.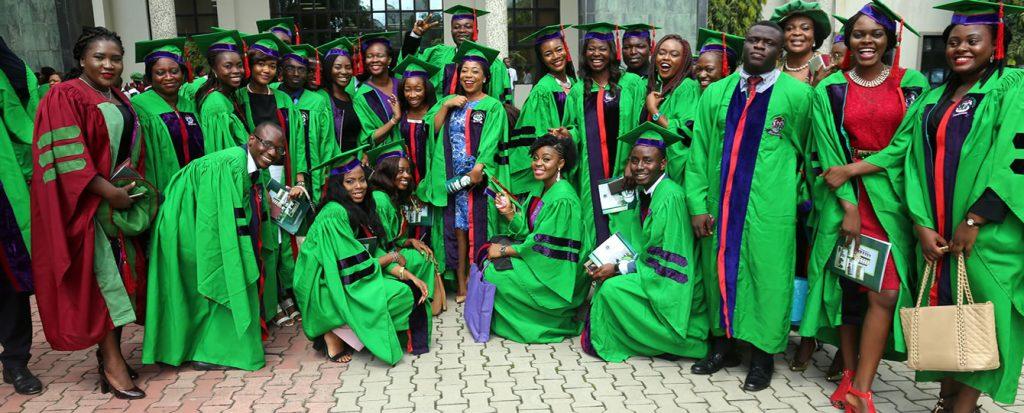 What is the Covenant University Portal?
The first thing, you must know about Covenant University is the difference between the University's main website and the Covenant University Portal. The University has so many sub-websites that it can all be confusing at times. Let's explain each one of them.
https://covenantuniversity.edu.ng/ – This is the University's main page. Here you will find the links to every other part of the school including admissions, scientific publications etc.
https://admission.covenantuniversity.edu.ng/ – this is the admission portal, where you will begin your registration into the school.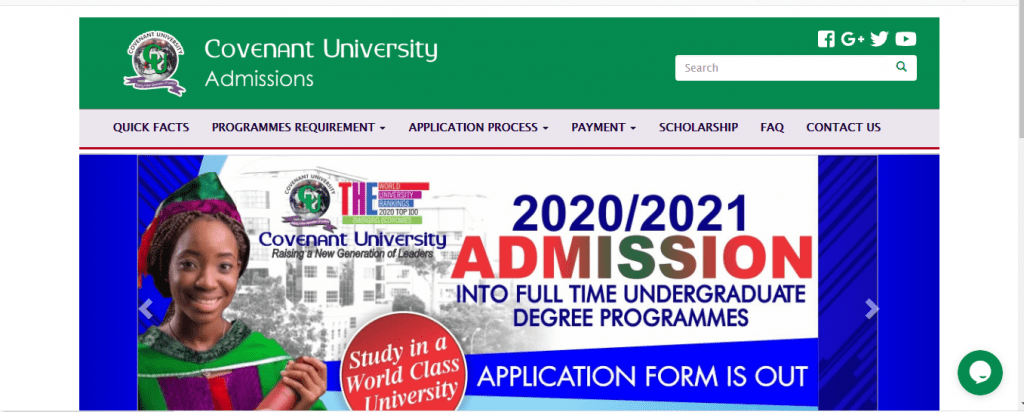 https://portal.covenantuniversity.edu.ng/ – This is the main Covenant University Portal. Whenever you've been fully accepted into the University, you will use this link for most of your needs, including school fees payment. Here you have a private account which requires a username and password (created at the time of admission).

Nevertheless, Covenant University accepts students, in Undergraduate, Postgraduate areas. They also accept Foreign students, and so the requirements may differ accounting to your nationality. If you are an International Student, then click here to find out more about the application process. For Nigerians, we will talk about eligibility below.
Eligibility Criteria for Admission into Covenant University
Credit passes in five subjects in not more than two sittings of either NABTEB/SSCE, GCE O'Level or it equivalent
Meeting the cut-off mark for UTME exams of the Joint Admissions and Matriculation Board (JAMB)
Once you know you meet the criteria, you can proceed to use the following information to make your admission payments
Go to this link to create account. You will have to enter your name, bio and information about JAMB (At this step, you will receive an email notification to make payments, check the info under Covenant University Application Fees payment).
Next, upload your credentials in the order as instructed. Make sure your documents are uploaded in .pdf format. Once done, click submit. These documents include Birth Certificate, Scanned Jamb Result for that year, and SSCE, NECO or NABTEB result scanned, Letter of Sponsorship by Parents.
Next, upload your passport photograph. It should not be more than 100KB in size and must be in .jpeg format.
You will be asked to get a Principal or Pastoral reference from either your teacher in your old school, school principal or spiritual leader). You must submit this recommendation letter via email to the Covenant University email address admissions@covenantuniversity.edu.ng
Next, book for your Post-UME Screening online at the CU Portal, and take note of your exam venue
Note that the Covenant University Portal is not just for freshers but returning students.
Covenant University Application Fees payment
As soon as your admission is accepted, you will receive notifications on email to proceed to make payments and prepare for your screening. Note that your Undergraduate form payments is N7,000 but you will also pay N900 and N600 over the counter to the teller at the bank. To make payments:
Go to Cu portal (also known as the Covenant University Portal) https://portal.covenantuniversity.edu.ng/
Login with the username and password, Click on Application status and print the Notification of Admission. Note that your username is the same as Application No i.e 180 xxxx and password is No i.e 180 xxxxx
Select "pay fees" to pay fees
At the bottom of the page, select "Click here to proceed"
Now select your mode of payment. You can pay using internet banking details, Nigerian debit card, or proceed to bank
Whichever you choose, don't forget to print your receipt
If you choose to go to bank, your bank will give you the reciept number and Pin number. This you will use to log back in to conform transaction.
Once you are done paying these fees, you can now proceed to the Student Portal to upload your passport photograph and handle your other affairs.
Banks accepting Covenant University Payment Fees
Access Bank Plc
Covenant Microfinance Bank
Diamond Bank Plc
Ecobank Plc
First City Monument Bank Plc
First Bank
GTBank Plc
Heritage Bank Plc
Skye Bank
Stanbic IBTC
Sterling Bank Plc
UBA Plc
Union Bank Plc
Wema Bank
Zenith Bank
Covenant University Application for International Students
First step is the processing fee of $100. This amount will be payed to:
Zenith Bank
Account Name: Covenant University
Account Number: 5070002387
Beneficiary Address: Canaanland, Km 10, Idiroko Road, Ota, Ogun State
Bank Name: Zenith Bank Plc
Bank Address: G.R.A Ikeja, Lagos
Zenith Bank Swift Code: ZEIBNGLA
CITIBANK N.A
Address: Canada square, canary wharf, London E14 5LB
IBAN Number: GB80CITI18500810407941
Account No: 10407941(USD)
Swift Address: CITIGB2L
Sort Code: 18-50-08
Guaranty Trust Bank Plc
Account Name: Covenant University
Account Number: 0132012749
Beneficiary Address: Canaanland, Km 10, Idiroko Road, Ota, Ogun State
Bank Name: Guaranty Trust Bank Plc
Bank Address: 63, Abeokuta Express Road, Sango Ota, Ogun State, Nigeria
Swift Code: GTBINGLA
Eligibility for International Students
All students who fall under this category but be students who had been educated abroad, or are citizens of another country, or a Nigerian who has been educated abroad, or a citizen of another country by brother naturalization. Ensure you acquire a visa to validate your stay in the country.
Application Procedure
A formal letter of application for regularization from student
Letter of recommendation from the Institution and acceptance of Immigration responsibility
A copy of letter of acceptance
Photocopy of relevant pages of the applicant's passport including the page of the relevant visa
All other details can be secured from the Nigerian Embassy in your country of origin.
Proof of payment of school fees
Eligibility for Application into Post Graduate Studies
If you wish to undergo your Masters or Doctorate in all Covenant University Course programs, then here are the requirements:
At least second class lower Bachelor's degree in relevant discipline from any university approved by Covenant University
PGD Diploma with minimum CGPA of 3.5 in addition of a Bachelor's degree (minimum of third class division) or HND (minimum of Lower Credit) in associated discipline
Applicants with relevant professional qualifications such as ICAN, ACA, ACIB etc, who do not have either a HND or B.SC degree and would need to have a PGD before gaining admission into a Masters program at the University.
For your Ph.D degree at the Covenant University, you must have:
Bachelor's and Master's degrees [M.A/M.Sc/M.Eng/M. Tech] in the relevant discipline obtained from Covenant University or any other university recognized by the Senate.
A minimum CGPA of 4.0 on a 5.0 point scale or equivalent in the Master's program to qualify for direct entry into the Ph.D. degree program.
Applicants with a CGPA of 3.50 – 3.99 on a 5.0 point scale or equivalent in the Master's program may be considered for M.Phil/Ph.D. program.
Applicants with professional Master's Degrees shall not be eligible for Ph.D. programs except they obtained M.Sc degrees in the relevant fields
Covenant University Courses
Now we know how to log in to Covenant University to begin registration. Let's talk about the Accredited Courses in Covenant University according to Covenant University Colleges.
College of Business and Social Sciences
This covenant university college has two schools namely School of Business (SBUS) and School of Social Sciences (SSSC). Here are the departments found under this college:
Department of Accounting
Department of Banking and Finance
Department of Business Management
Business Administration
Marketing and Entrepreneurship
Industrial Relations and Human Resource Management
Department of Sociology
Department of Economics
Demography
Social Statistics
Economics
Department of Mass Communication
College of Leadership Development Studies
This college is made of two schools namely School of Leadership Development (SLDV) and School of Human Resource Development (SHRD). Departments under this college include:
Department of Political Science and International Relations
Political Science
Policy and Strategic Studies
International Relations
Department of Leadership Studies
Certificate and Diploma programmes in Leadership
Department of Languages and General Studies
College of Science and Technology
Department of Building Technology
Department of Architecture
Department of Estate Management
Department of Biochemistry
Biochemistry
Molecular Biology
Department of Biological Sciences
Microbiology
Biotechnology
Applied Biology
Department of Chemistry
Industrial Chemistry (options in Materials/Polymer Chemistry, Analytical/Environmental Chemistry)
Department of Mathematics
Industrial Mathematics (Option in Computer Science)
Industrial Mathematics (option in Statistics)
Department of Computer and Information Sciences
Management Information System
Computer Science
Department of Physics
Industrial Physics (option in Electronics and IT Applications, Applied Geophysics, Renewable Energy)
College of Engineering
Department of Civil Engineering
Department of Mechanical Engineering
Department of Electrical and Information Engineering
Electrical and Electronics Engineering
Computer Engineering
Information & Communication Engineering
Department of Petroleum Engineering
Department of Chemical Engineering
Covenant University FAQs
What is the school fees of Covenant University?
The Covenant University School fees is one of the most closely guarded secrets. However, it is also purported to be affordable and ranges from N800,000 – N900,000
How can I get admission in Covenant University?
The usual way, pass the cut-off mark for jamb and 5 credits in SSCE or associated exams.
Does Covenant University allow phones?
Like most faith-based schools in Nigeria, the Covenant University does not allow smartphones or any other kind of phone. You cannot also bring your hair dryers or straighteners. But you can bring your laptop PC.
What position is Covenant University in the World?
Covenant University ranks among the first 400 to 500 Universities in the World. The University ranks No -1 presently in Nigeria, No 1 in West Africa and No 4 in Africa.