The money-making machine (MMM) and CEO of Five Star Music, E-money goes by the real name, Emeka Okonkwo a.k.a E-money
The name E-money signifies what it actually is "Money". This is no joke, because the multi-millionaire personality behind that name has got a lot of aces and accomplishments.
He is got the nickname E-money due to his method of lavishing money during public events. Some people also call him, Arabic money due to his extreme level of generosity. This has made him gain prominence on social media platforms.
E-money Early Life
E-money was born on February 18th 1981 in Ajegunle, Lagos State, Nigeria. He is the younger brother of the Nigerian celebrity Kingsley Okonkwo who is a Nigerian musician and a performer often referred to as Kcee.
The journey of E-money into a life of affluence didn't come from birth. He wasn't born with a golden spoon as rumours carry. E-money began his journey to affluence the hard way.
His turning point was when he was awarded a $2 million contract while he was returning from his traditional marriage. According to him, this was the turning point in his life forever.
Is E-money in Nollywood?
E-money has nothing to do with Nollywood although he has affiliations with the show business.
Currently, he is the head of a shipping company known as Emmy Cargoes Nig. which was established in 1997 and was formerly called Borisa Nig. Ltd. He is also a guru in real estate as well as oil and gas.
E-money Family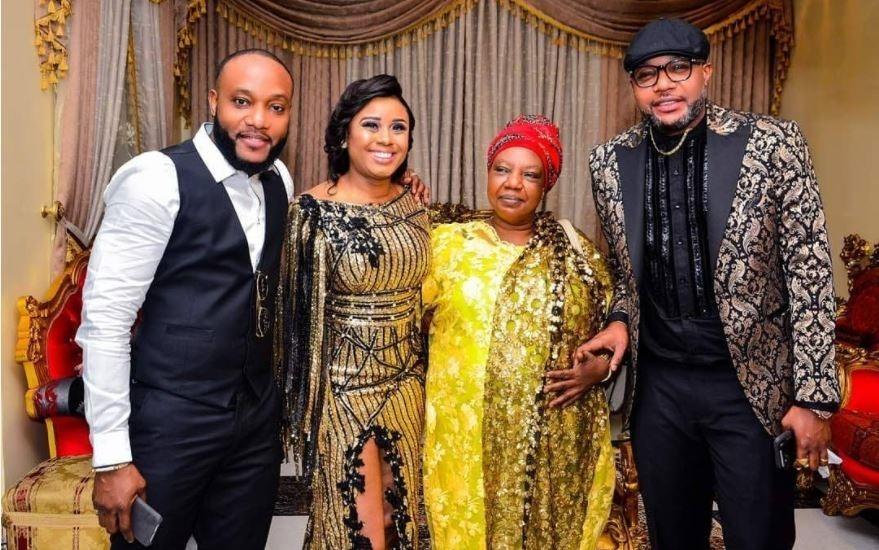 E-Money is happily married to a beautiful woman, Juliet. According to E-money, he met Juliet in 2003 when he was still struggling to make ends meet.
They tied the wedding knots many years ago and the couple is blessed with three handsome sons.
Emoney's family is currently based in the UK, but he has businesses in Nigeria
E-money's Asset, Mansions and Cars
E-Money is the kind of man with lots of material possessions and he has no issue about exposing them all to the entire world. His method of showcasing his assets so much on social media triggered the attention of the police who warned him about the possibility of drawing unnecessary attention towards himself and his possessions. However, this could not withhold him from showcasing the fountain of blessings he had.
The Five Star boss resides in a very beautiful gold furnished mansion worth over N250 million at Omole Estate in Ikeja, Lagos. This is in addition to the numerous houses he has in his possession.
E-money also owns fleets of tear rubber cars each not less than N20million with a fat bank account breathing heavily. Notwithstanding the current state of the nation, he still sprays money around when given the opportunity.
E-money Networth
The young badass money bag has no exact net worth but reports says that he is worth over a billion naira estimated to be N1.5billion.
This is coupled with his Five Star Music record label. Moving a bit from entertainment, it is no news that with his spirit of entrepreneurship has also got him involved in the oil and gas sector.
This young billionaire is indeed an inspiration to every youth out there to strive harder and never give up no matter what.