Interesting! To know that there are six geopolitical zones in Nigeria and their states. This article would tell you more about the zones. Let's go.
The Geopolitical zones in Nigeria are the main classification of the states of the country into geographical zones.
In 1993, when General Sani Abacha was the Head of State of Nigeria, the zones were created to help the structuring of government in Nigeria for better political and regional administration. They are made up of states with the same or similar cultures and history within the same geographical area.
Nigeria is a great country with an estimated population of 207,026,352 people and is made up of 36 states along with the Federal Capital Territory, Abuja and 774 local government councils. And with approximately 400 ethnic groups and 525 languages, it is no doubt the "Giant Of Africa" and So as a result of this, it was grouped into 6 geopolitical groups namely;
Here Are The Six Geopolitical Zones In Nigeria And Their States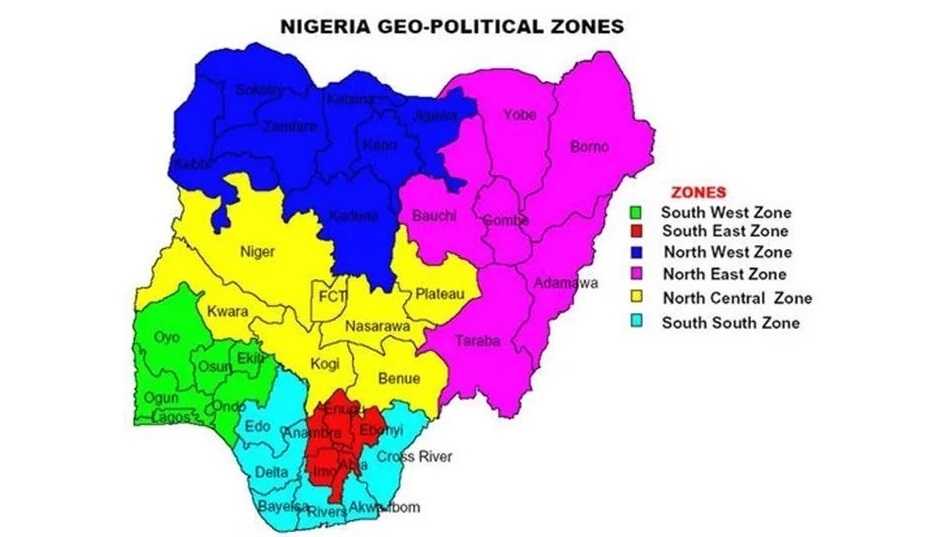 North Central-5 states
Also known as the middle belt, the North-West geopolitical zone has five states including the Federal Capital Territory(FCT), Abuja. They are Benue, Kogi, Nasarawa, Niger, Plateau. These states are known for their high agricultural productions yearly especially with Benue being The Food Basket Of The Nation. This zone is a perfect blend of the culture and religious practices of the North and Sout

North East-Six states
Adamawa, Bauchi, Borno, Gombe, Taraba and Yobe are the states that make up this area. These Member states are of the Hausa and Fulani ethnic group and mostly practice the Islamic religion. They are also active in livestock production and mass production of guinea corn, rice, millet, Asha, beans, maize and more.
Mat weaving, embroidery, pottery, fishing, dyeing, and blacksmithing are some activities they are known for.
North West-7 States
Jigawa, Kaduna, Kano, Katsina, Kebbi, Sokoto and Zamfara. Although the land here is quite dry, these states are actively involved in agricultural practices.
South East-5 states
This consists of five Igbo-speaking states in the country; Abia, Anambra, Ebonyi, Enugu and Imo. And is known for farming of both food and cash crops. Common crops in this area are rubber, palm oil, yam rice, cassava, kola, etc. This zone is also rich in natural resources including, limestone, petroleum, coal, etc and is known for their trading and manufacturing activities especially in Abia and Anambra states
South-South-6 States
Also known as Niger Delta. This is made up of the six oil-producing states of the Niger Delta which are Akwa Ibom, Bayelsa, Cross River, Rivers, Delta and Edo. The South-South is highly rich in Mineral resources, agricultural products and having states like Akwa Ibom, Delta and Rivers being the highest crude oil producers in the country is said to be the economic mainstream of the nation
South West-6 States
It Comprises Ekiti, Lagos, Ogun, Osun, Ondo and Oyo. These Yoruba speaking states also play a major role in the nation's economy. They house so many companies and factories and are rich in tourism, crude oil and agriculture
Conclusion
Nigeria as a vast country with so many resources and streams of income had to create these zones for effective redistribution of the nation's resources for proper growth and stability of the country.