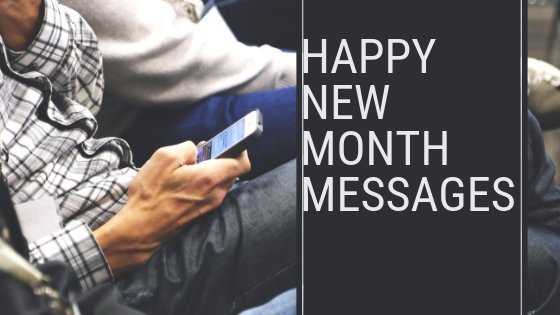 50 Happy New Month Messages
The beginning of every month is always a good time to send good thoughts and interesting Happy New Month Messages to friends and family in order to get them started on the new month with a positive mindset and know that someone actually cares about them. Coming up with happy new month messages can sometimes be difficult which is why we've come up with this list of the best 50 Happy New Monthly messages you can send to those you care about at the beginning of the month.
50 Happy New Month Messages
A new month is here. Get ready for great harvest. Get ready for prosperity. It shall be well with you. Happy new month.
May the coming month bring all the happiness and pleasure for you and your family. May your life become even more colorful than it was ever before!
May God Almighty showers you with all the love, peace and keeps you and your family always close to him. I wish you all the best for the upcoming month.
I am going to celebrate yet another month with the person I love most in this world. Nothing makes me happier than this thought in my mind.
Life is full of second chances. Yet another month is coming and do you know what's special about it? You are still alive to embrace the new possibilities it's bringing.
This new month, may you ride on the wings of the storm. May you glide gracefully into good success. Cheers!
It's a new month. Another opportunity to write beautiful chapters of life. May you fill the pages with beauty. May success be your story. Cheers to a great month ahead.
May this new month usher you with all the good things you deserve in life. Forget the bad memories and know that I'm always there for you.
The deadline for reaching your goals has been extended for yet another 30 days. So smile and explore the colors of the new month.
May the works of your hands make you proud this month. May your labour yield bountiful harvest. May your mouth be filled with laughter. Have a super month.
My dear! This month, You will be too loaded to be stranded. You will experience smooth acceleration even in the midst of recession. You will overtake and take over all your possessions. Happy new month!
May this new month begin with a new sun of success for you. May every ray of the new sun bring abundant happiness for you. Happy New month!
Life is too short. Enjoy and have fun. Forgive your friends. Love by heart. Laugh out loud. Do everything that makes you smile. Wishing you a splendid new Month and remain cool.
A new month is so refreshing, you can make new experiences,
go on new adventures and just be plain happy!
That's just what I wish for you.
Happy New Month
I pray for your days to feel bright, For your sleep to be sweet in the night. For your health to be full, And your dreams to come true. May your heart feel happy and light. Happy new month my friend!
Never lose hope. There is always a new month waving at you to let you know that you have many more things to achieve.
A new month has come your way, Make it an amazing one. It doesn't matter if the weather is bad, Or if your mood is not good at all. you just have to stay strong and be happy. Happy new month
The beginning of month is a good time to take care of some new business and set new targets. Wish you a very successful month full of great accomplishments!
May each day of the forthcoming month bring you uncountable reasons to celebrate and may your joy know no bounds. amen! I wish you a pleasant happy new month!
It's time to reset your resolutions once again and push even harder to achieve what you desire for. It's time to welcome yet another opportunity, a new month.
Wishing you fabulous new month,
a month with new experiences waiting for you.
Happy New Month
To my lovely friends, I am wishing you all the best now and forever. I pray that your new month be blessed with lots of success.
You'll fly like just like the Eagle, You will be Valued like Gold, You shall Shine bright like the Sun, You shall Flow unlimited like the river, You shall Flourish like the Palm Tree, And like Money, You shall be Useful. Happy New Month
Wishing you a day with lots of peace and an entire lifetime with lots of joy and happiness. Happy new month.
Wishing that this new month be as bright as the sun, as cheerful as butterflies, as beautiful as flowers, and as lovely as you are. Happy new month sweetie!
This is to my beloved, with love, for being such a wise and good person. You're the one who lights up my life and my hopes. I love you dearly. Wishing you a beautiful new month of great accomplishments.
Hey Buddies, this is the opening day of the new month. And it promises to be a new beginning for you. Take a lengthy breath and begin to move towards your purpose. I wish all good fortune. Happy New Month!

Hey dearie, This is the first day of the new month. It can also be a new start of your life. Take a long breath and start going ahead towards your destination. Best Of Luck, Happy New Month!
New month, new dreams, new challenges, new hopes, new goals… I hope you beat every challenge and achieve your goals this month successfully. Happy New Month.
I'm thankful we're both alive to witness the start of a new month. It is my prayer that we will witness countless more. Go make the best of the new month. You deserve nothing less than the best. May the Lord grant you all the desires of your heart. Happy New Month.
May all things work together for your good this month. May it be well with you in all your endeavours. Have a month that's as superb as you are. Happy New Month.
In this month, may your greatness not be limited. May you not dwell in obscurity. May the amazing works your hands are capable of advertise you and launch you into greatness. May your life know beauty like never before. Happy New Month.
In this new month, there's grace available for you. Grace to be the head and not the tail. Grace to be above always and never beneath. Grace to live and not die. Grace to stand and not fall. Grace to shine. Grace of favour. Grace for divine prosperity. Happy New Month.
It's a beautiful new month. A bright new day. Promise of blessings untold. Rich with untapped potentials. May it yield prosperity for you.
In this month, I declare that nothing will hold you back. Nothing will stop you from being what and where you want to be. Nothing will bar you from achieving your dreams and aspiration. You are a winner, this month and always. Happy new month.
Throughout this month, may you wax stronger and better. May you enjoy vitality in your spirit, soul and body. May unusual inspiration distinguish and set you apart for greatness. Happy new month.
May your days be fruitful, may you enjoy blessings to your heart's content. May your heart be joyful always. Happy new month.
Let go of the past. Embrace the new month. May you have beautiful days ahead. Happy new month. Make every minute of this month count. Embrace every second with enthusiasm. Live your days with excitement. Have a blissful month.
In this new month, goodness will be your companion. Success will be your umbrella. Blessings will seek you out and all round favour shall be yours. Happy New Month.
If you haven't yet found what you asked for, don't worry, another month is coming to your life to make sure your unfulfilled wishes are fulfilled.
A new month isn't just an occasion to celebrate. It's a package where all the equipment to fulfill the dreams is assembled. So grab it and make the best use of it
As you travel through this month, may you journey in peace, love, joy and prosperity. May your light shine for all to see. Happy new month. Here's wishing you many beautiful more to come.
This is the first of better months for you. Henceforth, may you not know a better yesterday. May your path keep shinning brighter and brighter. You will live fulfilled and your soul will be thoroughly satisfied. Happy New Month.
This new month, you will abide under the shadow of the Most High. You will be divinely protected and catered for. No harm shall come to you. No evil shall come near your dwelling. Happy New Month.
Carry on with all the positivity you have in you as a new month is coming to sweep you away to the land of happiness and joys.
There's no looking back this month. It is forward ever…ahead ahead. May you attain unprecedented and unmatched heights of success. Happy New Month.
As the month unfolds, may the Lord shine His light on every dark issue in your life. He will give you illumination and insight into every difficult situation. You will not walk in darkness. And it shall be well with you. Happy New Month.
Don't let anything stop or hold you back this month. You are stronger than you think you are. You are bigger than your fears. Happy New Month.
A new month is coming to take back all the negativity from this month and shower you with all the positivity in this world to make you your life even more wonderful.
Every of your little efforts this month shall yield massive returns. Your massive efforts shall yield overflowing blessings. Your glory will shine for all to see. You will be celebrated in no small measure. Happy New Month.