Would you like to know how to apply for Federal Civil Service Commission 2020? This article the perfect guide you desire. So, here we go!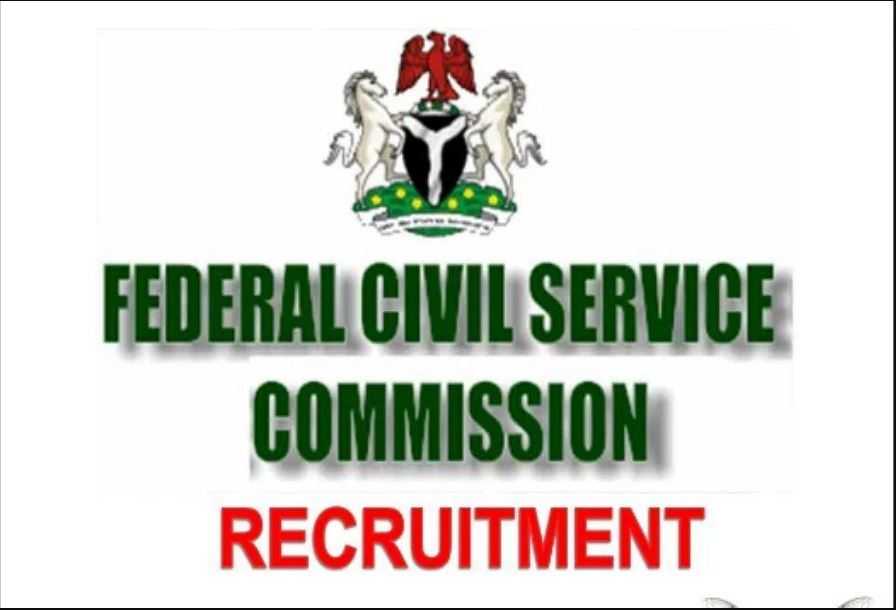 There is a need to know how to apply for this vacancy to avoid making common mistakes that can hinder your registration. So, we are going to focus our interest today on how to apply for the 2020 Federal Civil Service Commission,  but first, let's establish a basis on what a Federal Civil Service is and the role they play in our country Nigeria.
Definition Of Civil Service Commission
According to Wikipedia "A civil service commission is a government agency that is constituted by legislature to regulate the employment and working conditions of civil servants, oversee hiring and promotions, and promote the values of the public service. Its role is roughly analogous to that of the human resources department in corporations. Civil service commissions are often independent of elected politicians".  In other words, the civil service commission is charged with the responsibility of employing and transferring Nigerian civil servants which means without the Federal Civil Service,  civil servants in Nigeria can't be employed or even transferred.
Roles And Duties Of Federal Civil Service Commission
Furthermore, it is quite mandatory to note that an individual with a previous criminal record, employed by the government before and was asked to leave or resign can't be employed in the Nigerian Civil Service or even the Federal Civil Service Commission. The acronym FCSC stands for Federal Civil Service Commission and just like any other governmental organization or agency, they are always established for a certain purpose to carry out certain duties. These duties include:
They serve as a Representation of the Civil Service Commissioners at Senior Staff Committee meetings of Ministries.
They provide the necessary guidelines that are important for employment, promotion, and discipline.
They help in the ratification of the promotion of offices to senior positions, which includes the organizing of promotion interviews and exams.
They listen to appeals on matters of appointment, promotion, and discipline.
They are key players in the recruitment of senior Officers.
They also review and approve recommendations on Disciplinary cases of senior officers.
Besides, if you are willing to apply for the Civil Service Commission you need to know that every staff under the Civil Service Commission except the Director and Commissioners are also civil servants. Also, the Federal Civil Service Commission under the Chairmanship of Ahmed Al-Gazali and Stephen Osagiede Oronsaye serving as Head of Director released a new tenure policy that gives a four-year term for permanent secretaries which can be renewed only once and an eight-year term for directors.
History Of Federal Civil Service Commission
When applying for any job or recruit, there's a need to know and understand where you are going to or what exactly you are applying for. Therefore, you need to know at least a little about the history of the Nigerian civil service. The Nigerian Civil service can trace its roots back to the organization created by the British colonial. The word Civil service is the combination of two words gotten from Latin and the other gotten from French. Civil which is derived from the Latin word "civilis" means relating to a citizen, while service is gotten from the French word "servis" which means "aids".
After Nigeria's independence in 1960, the constitution that was made available as at then gave room for a Parliamentary system of government and a means of self-government for the three regions of government. Over time, various panels have proposed various reforms which include the Margan Commission of 1963, the Adebo Commission of 1972-74.
Finally, a major change occurred in the Nigerian Civil Service when there was an adoption of a constitution designed like the one used in the United State of America. Then, the Dotun Philips Panel of 1985 tried to reform the Civil service. These facts all played a major role in shaping the Nigerian Civil Service and making it what it is today. But, the most prominent factor that changed a lot was the 1988 Civil Service Reorganization Decree promulgated by General Ibrahim Babangida which influenced the structure and efficiency of the civil service.
Other people like the Ayida Panel that proposed the civil service should go back to the way it was in the earlier days to promote efficiency, Stephen Osagiede Oronsaye the Head of the Civil Service also proposed that Permanent Secretary and Directors should stay in office only for a maximum of eight years and it was approved by Late President Umaru Yar'Adura. Although the Nigerian Civil Service has undergone various reforms over the past decades, since the era of military rule and it's still going through reforms.
These are the most notable changes that have influenced the Nigerian Civil service. Now that substantial knowledge about the Nigerian Civil Service Commission and its history has been established, it's time we look at the most crucial aspect of this article, how to apply for the 2020 Federal civil service. Thus, to apply there are certain requirements that you must possess before applying and certain qualifications you must have attained before you think of applying.
Requirements
You must be a citizen of Nigeria either by birth or as a descent. This is the first requirement you must have before submitting your application. So, make sure you are a Nigerian, then you can apply.
Applicants must be within the age of 20 and 25 for the post of an Officer and 18 to 22 for other ranks. Ensure you fall within the specified age before you apply for any post in the Nigerian Civil Service Commission.
You must be physically fit. You have to be physically fit and stable both health-wise and mentally.
Applicants must have good character. Just like Martin Luther King said, "intelligence plus character equal to the true character". Your character says a lot about you. So, you must have a good character before you can get into the Nigerian Civil Service Commission.
You need to be hardworking and have the ability to work under extreme circumstances.
The applicant should be work and environment adaptable and should also have a passion for knowledge and be strongly driven.
The applicant should exhibit good interpersonal skills.
Applicants should be interested in the cultures of foreign countries.
The ability to speak a foreign language will serve as an added advantage.
Qualifications
Applicant must possess the minimum of a 2nd Class Degree from a reputable University.
Candidates applying for the position of Officer must have NYSC Discharge Certificate.
Nigerian Certificate of Education (NCE)/Ordinary National Diploma (OND) or School Certificate with a minimum of 5 Credits in Math and English for Other Ranks.
How To Apply For Federal Civil Service Commission
Qualified candidates should apply by sending their Application Letter and detailed CV to:
IPPIS Unit, Room1,
AAPSCOMS Building, Ground Floor,
Federal Civil Service Commission Headquarters,
4, Abidjan Street, Wuse Zone 3,
Abuja.
Visit www.fedcivilservice.gov.ng to be informed as soon as the recruitment starts.
Please, leave a comment below of your views about how to apply for Federal Civil Service Commission 2020.