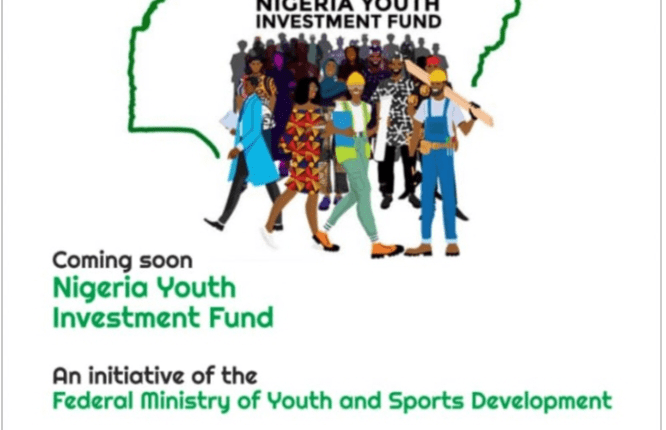 How to Apply for Nigeria Youth Investment Fund Application
Do you wish to apply for the Nigeria youth investment fund? Are you worried about whether the Nigerian youth investment fund is real? What to know more about the NYIF application? In this article, we will answer your questions about what is Nigerian youth investment fund about. Ready to learn more? Do read on.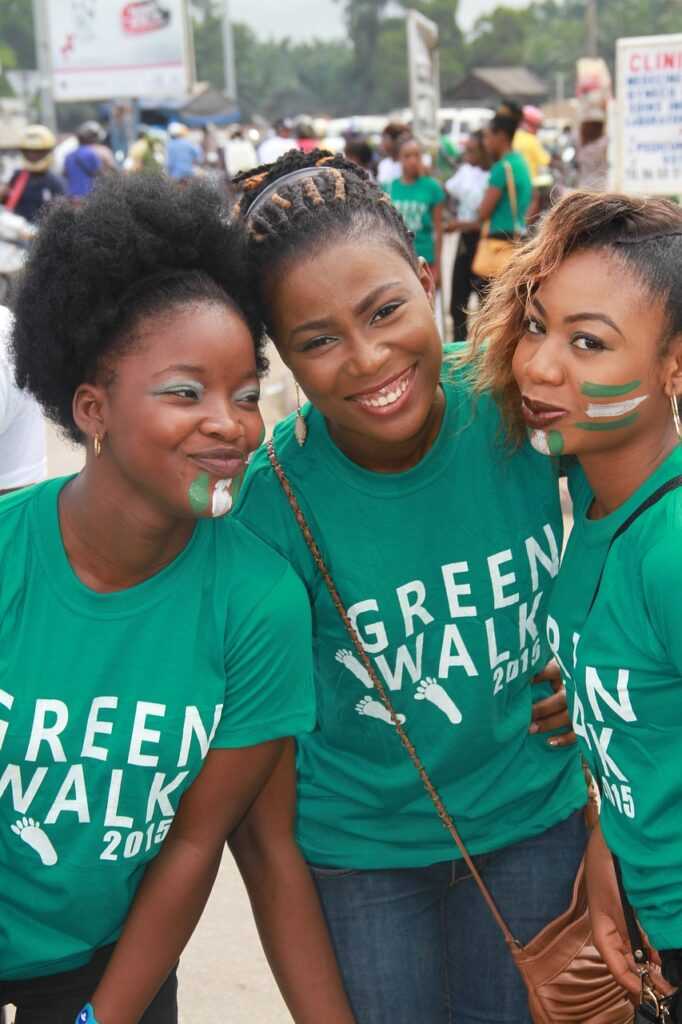 On Thursday, October 15, 2020, Sunday Akin Dare, the Minister of Youth and Sports Development, announced that the application for the N75 billion Nigeria Youth Investment Fund (NYIF) recently approved by the Federal Government and funded by the Central Bank Of Nigeria is open to any Nigerian youth interested.
This funding scheme is for young business owners and will cover three years. Fortunately, the Ministry of Finance, Budget, and National Planning has taken it upon themselves to fund the 2021 phase of this project. In contrast, the Central Bank of Nigeria has provided the N12.5billion required to kickstart this year's own.
This fund is a loan with an interest rate as low as 5% yearly throughout 5years. A grave period (moratorium) of 12 months will also be given for the payment of the loans. So beneficiaries have a total of 6 years to make the complete repayment of this loan.
Is the Nigerian Youth Investment Fund Real?
Yes, it is absolutely real. What makes it stand out is that the scheme isn't said to be carried out by some ambiguous NGO. The Federal Government Ministry of Youths is in charge of this scheme in conjunction with the NIRSAL Microfinance Bank (NMFB).
Secondly, it is not free money and you are not asked to pay anything in order to access this funds.
Therefore, it is not a scam. However, you will need your BVN. The idea behind the BVN is to help prevent multiple applications and check your history with other banks to prevent giving loans to people who are owing loans in other banks across Nigeria.
Do note:
There has been a replica of the NYIF fund going on around WhatsApp. That version is fake as it uses Google forms and is not affiliated with a normal website. To make sure you apply correctly, make use of the websites we listed above.
Criteria For The Nigeria Youth Investment Fund
1. You must be a citizen of Nigeria
2. You must have a means of identification, i.e., a National Identity Card, Voters Card, or a National passport.
3. A registered business or individual – Non registered businesses can apply for up to N250,000 while youth-owned registered businesses can apply for up to N3 million.
4. You must be a Nigerian youth between the ages of 18 to 35years.
5. Valid BVN for individuals and directors of the establishment
6. A copy of your Birth Certificate
7. Evidence of Local Government Indigene Certificate
8. Automated Two years Bank Statement
NYIF Application Criteria for Individuals & Non-registered Businesses
1. In the absence of a registered business, you must have a good/fundable business idea. That means you need to have a completed questionnaire and provide a business plan summary
2. You must also have an Entrepreneurship Training Certification from FMYSD Entrepreneurship Development Institutes (EDIs)
3. You must have a valid phone number and email address
NYIF Application Requirements For Registered Businesses
1. Registered businesses looking to apply for the Nigerian youth investment fund should be duly and accurately registered under the Corporate Affairs Commission (CAC)
2. You must complete the questionnaire and provide a business plan summary
3. Must provide your Tax Identification Number (TIN)
4. You must have Entrepreneurship Training Certification from FMYSD Entrepreneurship Development Institutes (EDIs)
Eligible Businesses for the NYIF Scheme 2020
According to the CBN, if your business falls in any of these categories, it increases your chances of becoming eligible for the scheme. They include:
Manufacturing
Hospitality/Tourism
Construction
Healthcare value chain
Creative Sector
Agriculture and related value chain
Technology/Innovation
Green economy and Renewable energy sector
What Do You Need To Apply for the Nigerian Youth Investment Fund?
To apply for this loan, you need;
1. A good browser, preferably, Google Chrome or chromium browsers such as Microsoft Edge and Opera
2. Internet connection
3. A good system or mobile phone
How To Apply | NYIF Application Form
1. You can apply for the Nigeria Youth Investment Fund NIRSAL Microfinance Bank's site using www.nmfb.com.ng
2. Click on Apply here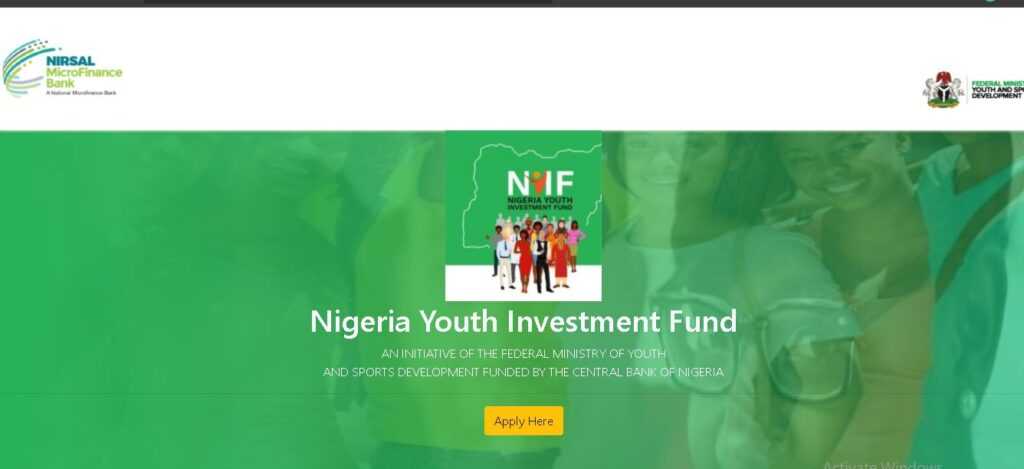 3. Enter your personal Bio-data, including name, surname, and BVN (Your BVN helps them weed out multiple applications and applicants already owing banks across Nigeria).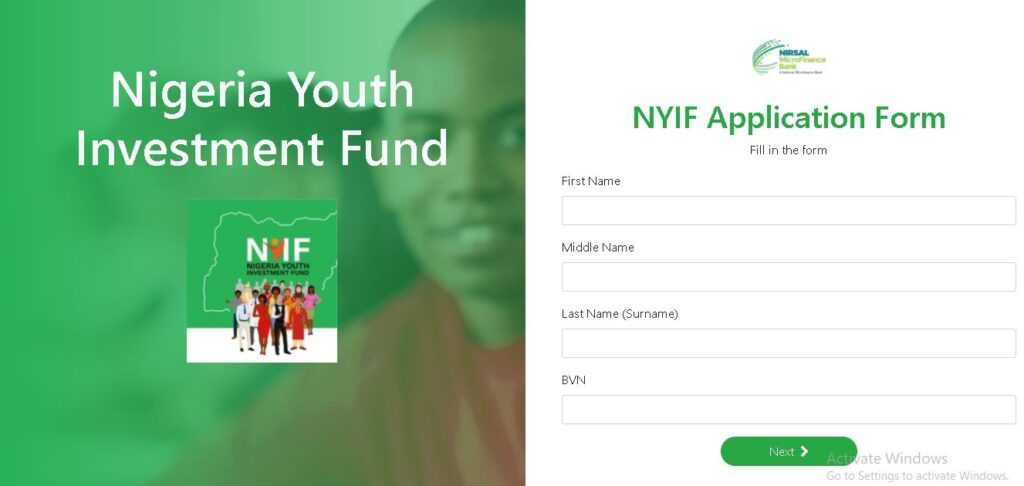 4. Select your preferred training center by choosing any of Nigeria's six geopolitical zones. Do understand that you won't be required to undergo the Entrepreneurship training physically. Everything will be done online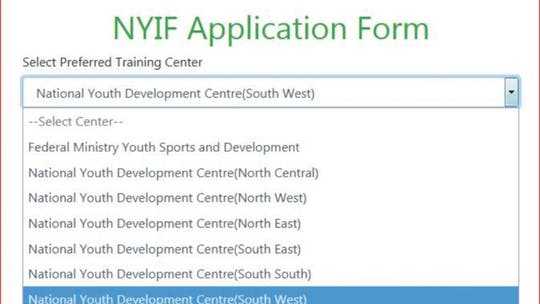 5. Next, enter how you heard about the NYIF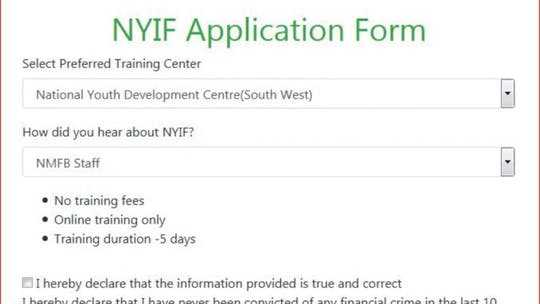 6. Finally, Click on submit and wait. Now you are officially done. Just relax and wait to receive a positive response from the Federal Government.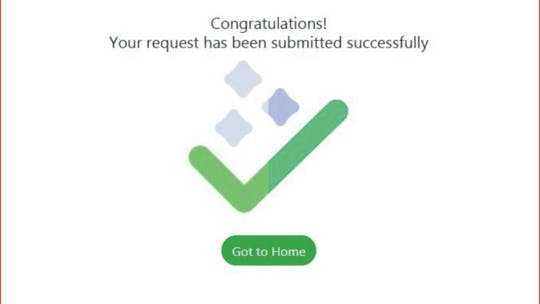 7. Note that you will receive a response via SMS or email if your application is approved. Ensure you use valid contacts that you can be reached anytime to avoid missing out on the opportunity.
Note: Certain Businesses are not eligible for the Nigerian Youth Investment Fund 2020
The following businesses should not bother applying as they are not eligible for the current scheme:
1. Businesses or people already enjoying loans from NIRSAL Microfinance Bank (NMFB) loans such as Targeted Credit Facility (TCF) and Agribusinesses/Small and Medium Enterprises Investment Scheme (AgSMEIS). They should not apply as long as these loans just outlined remains unpaid.
2. Beneficiaries of any other government loan schemes that have not repaid any of those loans are ineligible for the NYIF Registration 2020.
NYIF Application Deadline
Do note that because the NYIF scheme is a loan program, there is no application date released by CBN. Therefore, if you've got that business plan or need funds to expand your current business, now is your time to get the necessary loan you need.
Caution!!!
The Federal Government will never ask you for a processing fee, application fee, or other cooked up scams out there. The original NYIF application must be made via the website mentioned above. The registration and application are completely and absolutely free.
Once you apply, you stand a chance of getting a fund of N250,000 to N3million loan, access to empowerment and entrepreneurship training programs, and priority finding from other public and private sectors and other financial institutions. Even individuals stand a chance of getting these loans to start something better in their lives.
The aim of this find is the boost the economy by investing in youths through their businesses.
Due to the huge traffic pull on these sites but thousands of other applicants, it had been observed that the favorable time to register without glitches is a safe night when everywhere is calm. Just like every other grant, this offer will not be open for a long time, so interested applicants are advised to register immediately. Hopefully, luck will be by your side.
Now you know all about the Nigeria Youth Investment Fund 2020, go and start your application. If you need any more information about the program, please drop your comment below.