Every year, JAMB (Joint Admissions Matriculations Board) conducts entrance for prospective students into Nigerian tertiary institutions. The examination board council was founded in 1978. The examination is known as the Unified Tertiary Matriculation Examination (UTME).
It is usually a computer-based standardized examination designed to assess problem-solving, knowledge of scientific concepts, critical thinking, and principles significance. Heading into every examination, one of the trending topics for candidates is the JAMB cut-off mark. This mark is the minimum score a candidate will have to attain in order to sit for an institution post UTME examination.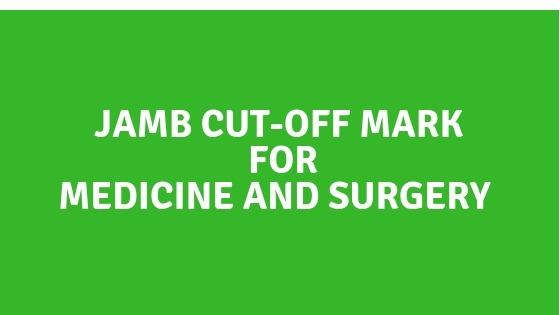 In this article, we'll be looking at one of the most competitive courses in tertiary institutions; Medicine and Surgery. This course is very demanding in the labour market and comes with lucrative job offers. This is why you'll see most Nigerian students wanting to study the course. The sad part about Medicine and Surgery is not available in all tertiary institutions. Only a few institutions are cleared by the Nigerian Universities Commission (NUC) to offer the course. And these institutions, don't accept a lot of students. The JAMB cut-off mark for Medicine and Surgery is always set at a high standard cause of the nature of the course.
What are the subjects required for medicine in JAMB?
Before worrying about the cut-off mark set by JAMB for Medicine and Surgery, you need to clear the first hurdle which is knowing the subjects required for the course in JAMB. You need to have credit at least in 5 subjects for O'Level. These subjects are;
English Language
Mathematics
Physics
Chemistry
Biology
Then to sit for the UTME examination, which allows the candidate to pick 3 subjects along with English being compulsory. For Medicine and Surgery, pick Physics, Biology and Chemistry.
JAMB Cut-off Mark for Medicine and Surgery
After getting over the subject hurdle, we can now talk about the cut-off mark. JAMB cut-off for Medicine and Surgery is 200. Please note that the total score one can attain in UTME examination is 400. So JAMB is basically giving you a chance to make 50% in the examination, which is generous from their side.
The bottom line and reality are that the universities that offer Medicine and Surgery won't allow you to sit for their post UTME with a score 200. And even if JAMB insist, the chances are so slim that you'll get admitted, which is your end goal. You're therefore advised to score at least 250 in your UTME examination to stand a better chance of getting admitted.
Medicine and Surgery cut-off mark for various Universities
Most universities don't follow the traditional cut-off mark set by JAMB, especially the Federal universities. So, this is a list of some popular universities and their cut-off for Medicine and Surgery.
University of Lagos – 260
University of Ibadan – 250
University of Ilorin – 260
Obafemi Awolowo University – 275
Ahmadu Bello University – 240
University of Benin – 240
Lagos State University – 220
University of Port Harcourt – 230
Nnamdi Azikiwe University – 240
University of Abuja – 250
University of Calabar – 250
Olabisi Onabanjo University – 230
University of Uyo – 230
Ekiti State University – 240
Babcock University – 220
Ambrose Alli University -220
Ebonyi State University -250