Check out an updated list of music labels in Nigeria. This article would enlighten you on the updated list of music labels in Nigeria.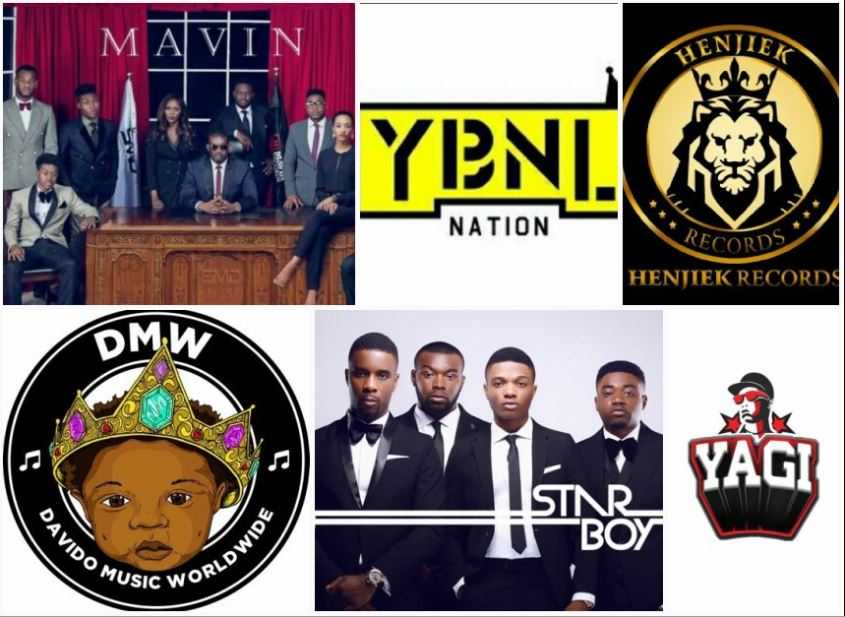 We must say that the advent of music has become a very wonderful impact in the world today. music has helped in the world today in so many ways: to keep the mind at ease, help to kill boredom, make the body jovial and busy, source of joy and relaxation. It is easy to say that music has become a dynamic phenomenon and it has helped in the globalization of the world and thereby creating popular and talented musicians to help in producing wonderful music for their followers.  So this article is focused on the various music labels in Nigeria but first, we need to establish a fundamental understanding of the word "music label". Therefore what is a music label? according to Wikipedia: "A record label, or record company, is a brand or trademark of music recordings and music videos, or the company that owns it".  In other words, we can say a music label is a trademark responsible for a song or video produced by an artist. The various labels come in different names and this blog or rather article is focused on the updated list of music labels in Nigeria but before we focus on the numerous music labels in Nigeria it is mandatory to know that there is no artist without a music label, in other words, every artist on this globe belong to a particular music label. Now let's take a good look at the various labels in Nigeria.
DMW
Davido music worldwide is a music label owned by the Nigerian pop star Davido and it was established in 2016 after he departed from his former music group called HKN. Davido as a popular and hardworking artist has done a very good job in developing his record label by bringing it into the limelight in 2016 with his first single "if" and where his popular 30 billion gangs became famous. This music label has various successful artists under its umbrella, artists like Peruzzi, Mayorkun, Sauce kid, Idowest, Davido himself, Ponda, and others. It is very easy to say that this record label DMW is a successful music label in Nigeria because of its numerous hit songs or singles by the artists under the label. We are talking about singles like "if", " fall", "2u", "Betty butter" and many more. DMW is a music label with the ability to promote and create popular stars with talent because the record label has music stars with a huge number of followers on social media and this alone can help to promote any talent found and a typical example of this is the recent artist signed to the record label in-person of Ayanfe. Ayanfe was a talented musician but without the fame, until he recently did a cover on Davido's song, which drew the artiste to him and gave him the opportunity of signing a contract with the DMW family and this has brought nothing but limelight to the boy's ongoing career as a musician. So all you can say is that DMW has the right resources and power to promote stars.
Made Men Music
The second musical label on our list is called Made Men music owned by a Nigerian businessman and entrepreneur Ubi Franklin. Ubi Franklin is regarded as one of the most successful artist managers in Nigeria and he has managed the likes of Tekno, Iyanya, and even Selebobo. He is the founder of Made Men music and under his record label, he has been able to produce popular musicians like Tekno and Iyanya and also helped them in the production of hit singles from both artists. We are talking about singles like Diana by Tekno, wash, and others. You can say Mad Men music is a record label for every upcoming artist and Ubi Franklin is always ready to promote a star.
Mavin Records
This is another popular record label in Nigeria and it is owned by popular music mogul Don Jazzy. Don Jazzy is an iconic figure in the music industry and is related to numerous success in music like the establishment of the Mohit group and signing artists like D banji, Wande coal, Kayswitch, D'prince, and others. Although the Mohit group split in 2012 that wasn't a major setback for Don jazzy as he went on to create another group called Marvin records. Under this record label, he started with the likes of Tiwa Savage, Dr. Sid, and Wande coal and together they built the music label into one of the Giants when it comes to labels in Nigeria. Donjazzy didn't rely on the artist he had at the time because he understood the fact that they will move ahead in their career so you went ahead to sign more artists and gave them the platform to become global stars. He signed artists like Korede Bello, Reekado Banks, Rema, and crayon,  altogether Donjazzy has been able to create good music for every single artist under his label and also created good songs for them as a group and we're talking about songs that made hits, songs like Adaobi and others, so you can see that if you are looking for a record label to give you the platform to shine and become popular in Nigeria,  then Marvins record is one to be kept in mind or on your list.
YBNL NATION
This is among the well known music labels in Nigeria and it is owned by the popular Nigerian rapper Olamide. The YBNL is an acronym for Yahoo boy no laptop. This label has signed popular artists and allowed them to become independent musicians and under this label, artists like Adekunle Gold and Lil Kesh have grown to become phenomenal entertainers in the Nigerian music industry. Currently, the record label has a prominent star that has caught the eye and ear of Nigerians and we are referring to no other person than Fireboy. Fireboy who can be considered the fastest-growing star under the YBNL music label has released two albums with various tracks topping the Nigerian billboard. He's a musician with long dreads and a voice to catch the hearts of women and all thanks to the YBNL music group for allowing him to become a popular entertainer he is now. Then we must say YBNL is a music group that gives opportunities to singers,  vocal artists, rappers DJ's producers from any part of the world.
Starboy Entertainment
The record label on our list is the Starboy entertainment owned by the music talented singer known as Wizkid. Wizkid has grown from being a young boy to a household name in the mouths of every child, adult, and even parents. His songs have received global nominations and he has gotten the opportunity to work with various influential singers in the music industry in the likes of Beyonce, Drake, Chris Brown, Skyler Walker, Rihanna, and many others. He has won global awards ranging from the BET Awards, Music Awards, and many more. After he departed from Banky W's music label Empire music entertainment in 2013, he founded his label and named it Star Boy entertainment. Under this label, he has signed numerous artists like R2bees, Maleek Berry, Skyfa, and even the now popular Mr. Eazi who was once under his label. We can see that Wizkid is an individual or a force to reckon with, both in the music world and when it comes to signing great artists to produce beautiful songs.
Penthauze Entertainment
This record label is owned by the Nigerian rapper Phyno and under this record label, he has produced about a total of two studio albums and even signed artists like Runtown, Stormrex, and others. Although Runtown later left the record label Phyno was still able to push and make penthouse entertainment a common name in the Nigerian music industry. Under his record label, he has won numerous awards and shot numerous music videos for his singles like "money" and "Agu" and under his record label, he has won numerous awards for being a phenomenal rapper in the Nigerian music industry.
Spaceship Entertainment
This is one the top music labels in Nigeria and it is owned by the African giant himself, in-person of BurnaBoy. BurnaBoy has grown in Nigerian music entertainment to become a globally recognized musician and can refer to 2019 to be one of the most successful years in his career. In 2019 he released his album, African giant, under his record label space Entertainment and this album brought him numerous Awards like best African act in the BET awards and even gave him a Grammy nomination although he lost it to Angelique Kidjo. With the help of his Talent and creative ideas when it comes to producing good music for his fans,  BurnaBoy has taken his record label to Worldwide recognition and has shot so many videos for his single,  videos that attract millions of views on YouTube. We cannot be so certain on the number of artists or who exactly is signed to his space Entertainment but we are a hundred percent sure BurnaBoy is the main artist behind the worldwide recognition for space Entertainment.
K-MONEY Entertainment
It is on of the outstanding music labels in Nigeria. This music label is owned by the R&B pop star Tekno. After he left the made Men music in 2019 he established his record label and under his record label, he has been able to produce good songs for his fans. Tekno is not only an R&B pop star he's also a producer and he has worked with numerous artists both in Nigeria and abroad,  artists like Davido and even Drake. He is the mastermind behind the hit song "If" and Davido always give good credit to him for producing such a masterpiece.
Please, share your views concerning the list of music labels in Nigeria.