In this article, we will learn more about Naira Marley Net worth, Naira Marley Biography. We will also learn about Naira Lifestyle, Naira Marley's Kids. Naira Marley Achievements and Career.
And now let's talk about Naira Marley
Who is Naira Marley?
Naira Marley is a Nigerian songwriter and singer. His real name is Azeez Fashola, and he is more popularly known for his controversial fan base, themed "Marlians." Since his speedy drive to the front of the Nigerian music industry, the singer has released hit songs such as "Mafo," "Tingasa," "Am I A Yahoo Boy" and "Soapy," and "Lord of Lamba."
Naira Marley Biography
Azeez Fashola was born on 9 May, in 1994, in Agege, Lagos State. When he was only 11 years, his parents moved him to Peckham, South London, England. There he finished primary education at Porlock Hall and secondary education at Walworth School. After this, he proceeded to study business at the Peckham Academy. Later on, he went on to study Business Law at Christ the King Sixth Form College ( formerly called Crossways College).
Rise to Stardom
Naira Marley's rise to fame was spontaneous even if he has been in the industry for some time. Growing up, he always wanted to become a Voice-over artist and MC. However, in 2014, following his discovering a love for music, he decided to pursue it full time. At the time, he was studying Business Law. Nevertheless, we don't know if he finished or dropped out to follow his passion.
However, encouraged by friends, he released the Max Twigz assisted track "Marry Juana." Later on, he released his debut EP, "Gotta Dance," in 2015.
Not much was heard from him for about two years until 2017 when he collaborated with Lil Kesh and Olamide to release the hit single "Issa Goal." The song sporadically became the theme song for the Super Eagles at the 2018 FIFA World Cup. At the time, he was signed to the Marathon, a UK based Record Label.
In 2018, the official remix of that song was released with vocals from Slimcase, Simi, Falz, Lil Kesh, and Olamide. Due to this song, he got deals with Coca Cola and Nike.
However, there wasn't much known about him that same year.
Career Achievements
In May 2019, Naira Marley released the controversial hit single, responsible for his rise to fame. The track "Am I A Yahoo Boy" got him arrested by the EFCC on the same day of the release. Days later, he released the song "Soapy" in June 2019. The wide coverage for these two songs is the sole reason he won the 2020 Soundcity MVP Awards for Viewer's Choice.
In December 2019, Naira Marley released his second EP, "Lord of the Lamba," which contained six tracks featuring Guest artists Mayorkun, Young John, and CBIvck.
By the end of December, Naira Marley decided to open his own record Label Marlian Records. These announcements were made at the Marlian Fest at Eko Hotels Suite on 30 December. He also unveiled freshly signed acts to his new record label including Fabian Blu, MohBad, Zinoleesky, and CBIvck.
Naira Marley has in interviews stated that his stage name "Naira Marley" was coined after his love and respect for the Reggae Legend, Bob Marley. His music is a combination of melody, dancehall, and rap. He sings in a mix of English, Yoruba, Pidgin and street grime.
Naira Marley Family and Wife
Although it's hard to ascertain, Naira Marley is married to two wives and has four kids. He had actually gotten married at the time he was studying Business Law at Christ the King Sixth for College. Owing to his responsibilities, he had to take a break from school and begin making music. His wives and kids are all British citizens. However, he has managed to keep his family away from the spotlight.
If you ust know, Naira Marley is also a practicing muslim.
How many children does Naira Marley have?
Naira Marley currently has four children. He has three girls and one boy. Two of his girls are twins and known simply as Taiwo and Kehinde. His eldest,Jojo is the only boy in the family.
Naira Marley Net worth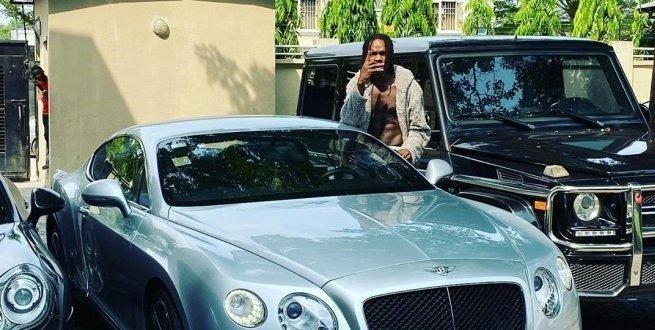 There are rumors about Naira Marley net worth. However, we only know about a few deals and endorsements with Coca Cola and Nike. Some speculations also tie him to the Fashola family. Therefore, it's safer to place his net worth under $300,000, which means most of his money comes directly from music.
| | |
| --- | --- |
| Estimated Net worth in 2020 | $300, 000 |
| Previous Year's Net worth (2019) | $300, 000 |
| First Name | Azeez (Naira Marley) |
| Last Name | Fashola |
| Profession | Songwriter, Musician, Singer |
| Age | 26 years |
| Birth Sign | Taurus |
| Date of Birth | 9 May 1994 |
| Place of Birth | Agege, Lagos, Nigeria |
| Country | Nigeria |
Naira Marley Controversial Arrest.
Following the release of the "Am I A Yahoo Boy" single, Naira Marley was arrested alongside Adewunmi Moses, Abubakar Musa, Tiamiu Kayode, and Zlatan. Five days later, the EFCC released Zlatan and other three but kept Naira Marley. In May 2019, he was charged with 11 counts of fraud and brought before the Federal High Court in Ikoyi, Lagos.
Surprisingly, Naira Marley also released the song "4 Nights in Ekohtiebo" in prison. However, on 19 May 2019, he was brought before the Federal High Court again, where he plead "Not Guilty." He bail was afterward set for N2 Million. He, however, released another hit single "Why," a song that showed him in handcuffs. Naira Marley finally gained freedom after paying the bail bond. Days later, he released the song "Soapy," which featured the sexual activities if inmates in detention.
In October 2019, he returned to face his charges, and the case was adjourned to February 2020. At the moment, the case is still in court and was adjourned till May 2020. However, Naira Marley was rearrested in December 2019 following another lawsuit this time, a car theft allegation. Yet, that case was settled out of court and later dismissed.
Is Naira Marley Dead or Alive?
Naira Marley is alive and actively releasing mind-blowing vibes in Nigeria.
Naira Marley Instagram
Following his fame, there's no doubt Naira Marley would have huge followership online. Currently, he has over 3.2 million followers. His fans more famously refer to themselves as Marlains.
Naira Marley Pictures
As expected, we do know you would want to see pictures of your favorite Marlian. And here goes, some fascinating photos of Naira Marley.
And that's all we know about Naira Marley Net worth and lifestyle. Share your thoughts about Naira Marley in the comment section. How well do you love his music?