Fast rising Instagram comedian, Nasty Blaq is currently facing an overwhelming criticism over his recent comedy skit.
Nasty Blaq was accused by twitter users of promoting 'rape' and they have called him out, condemning the manner in which he acts his comedy.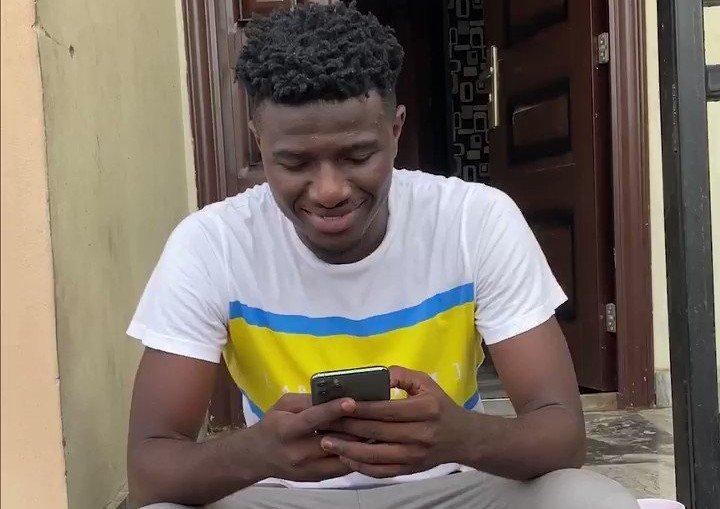 Below are some reactions ;
Wasxy wrote ;
People get tired when you keep delivering same thing every time. Nasty Blaq's sexual skits every time ain't it all.
Many are called, few are chosen. Don't force this fame with stupidity. Learn from the likes of Taaooma, Twyse, Maraaji & co, if you have to. Don't Rush!!
Thevolqx wrote ;
This is what Nasty Blaq scripted …
Your neighbor (female) meets you outside and appeals for some help , she ran out of oil and needed a bit .
Rather than going inside , you lure in , lock the door and forcefully commit a sexual act .
Where's the joke ?
There's none .
Wale Adetona wrote ;
That Nasty Blaq video or whatever he is called is a perfect representation of what rapists do. Even if you put on an overall to cover your entire body, it still boils down to the kind of picture they project about your body in their head. I hope he deletes it before it's too late.
Guardian Angel wrote ;
Don't come here to say Nasty Blaq's skit is about chicken and chips and groundnut oil.
A girl wore nightwear but he was seeing nakedness. He locks the door threw away the key for what purpose to preach to her or what?
The end to that skit is rape and the content is trash
Umar wrote ;
What message was Nasty Blaq trying to pass across exactly?
To take advantage of women for their little needs?
To sexually harass them?
To imprison them?
Bhadmus Akeem wrote ;
Your neighbor came to ask for groundnut oil & you removed her cloth in your head picturing her sexy body. Asked her to go inside, locked door & threw away the key. If you don't see anything wrong in Nasty Blaq sensualising Rape. You are part of the problem.
Watch his comedy skit below!