Want to learn more about one of U.S finest First lady in history, Michelle Obama, check out this fascinating article.
When we define amazing women, whose elegance and kind heart goes before them, Michelle Obama should come to mind. By reading the book "Becoming " by this gorgeous lady, you will gain deep insights on just how unique Michelle Obama really is. In this article, we will describe the fascinating attributes of her.
Fast Facts about Michelle Obama
Michelle LaVaughn Robinson Obama is an American writer and lawyer.
She was born on the 17th of January, 1964 and was married to the former and 44th president of the United States of America, Barrack Hussein Obama.
She was the first African American woman to become the First Lady of the United States. Michelle Obama was born to Fraser Robinson III and Marian Shields.
Her paternal great-grandfather, Jim Robinson was born into slavery on Freindfiled Plantation, near Georgetown, South Carolina.
She originally hails from the South Shores of Chicago in Illinois. She graduated from Princeton University and Havard Law School. She got married to Barrack in 1992 and the couple has two daughters.
Michelle was active in her husband's political career, holding press conferences and keynote addresses and championed his entry into the presidential seat.
Michelle has been quite active in many campaigns including the Nigerian #Bringbackourgirls campaign in 2014. She also made several tweets of herself holding a poster with the hashtag.
Michelle Obama Height and Weight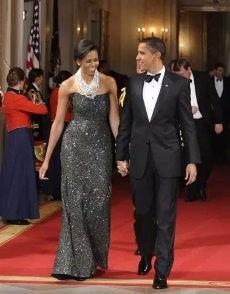 Michelle Obama is famously known for her height and weight. She is incredibly a 5′ 11″. She is only a half-inch shorter than George Bush ( US President, 2000-2004).
She is the same height as the 28th US President Woodrow Wilson. She is taller than all part first ladies except Eleanor Roosevelt who shares the same height as her.
Michelle Obama has been seen tirelessly making sure that her health and weight is superb. Her program "Let's Move" is geared towards helping combat the obese problem especially with children. Her favourite sports is Tennis and Basketball.
Michelle Obama Family
Michelle Obama loves being around her kids. Due to this passion, she made a lot of infrequent appearances. she is well known for her sense of fashion, discipline and decorum.
Many describe her fashion style has "fashion populist". She favours sleeveless dresses and only wears clothes made by African Designers and top design companies in the U.S