So the TECNO spark has always been one of those entry-level devices to recommend to young starters and first-time smartphone buyers or someone who want something to use as a backup device.
So TECNO is back with the introduction of spark 5, its predecessor was a decent entry-level device that performed so well, and with the introduction of the new device here, I believe it should come with an improvement that will make it a much better device than the Spark 4.
So in today's post, I'm going to review it and give you guys my thoughts so to help you guys make a purchase decision.
I also made a video on this device where I unboxed and review it just in case you prefer a visual representation of this device. Just click here to go watch that video
So, first thing first, let's see what's inside the box, by the way, I like the two-tone design on the box here.
So when you open the box you're greeted with the device in plastic wrap that carries similar design like the box with some basic specification.
Next a 12 plus one-month warranty card and a plastic silicon case which is always necessary for your early device protection before you get a decent case.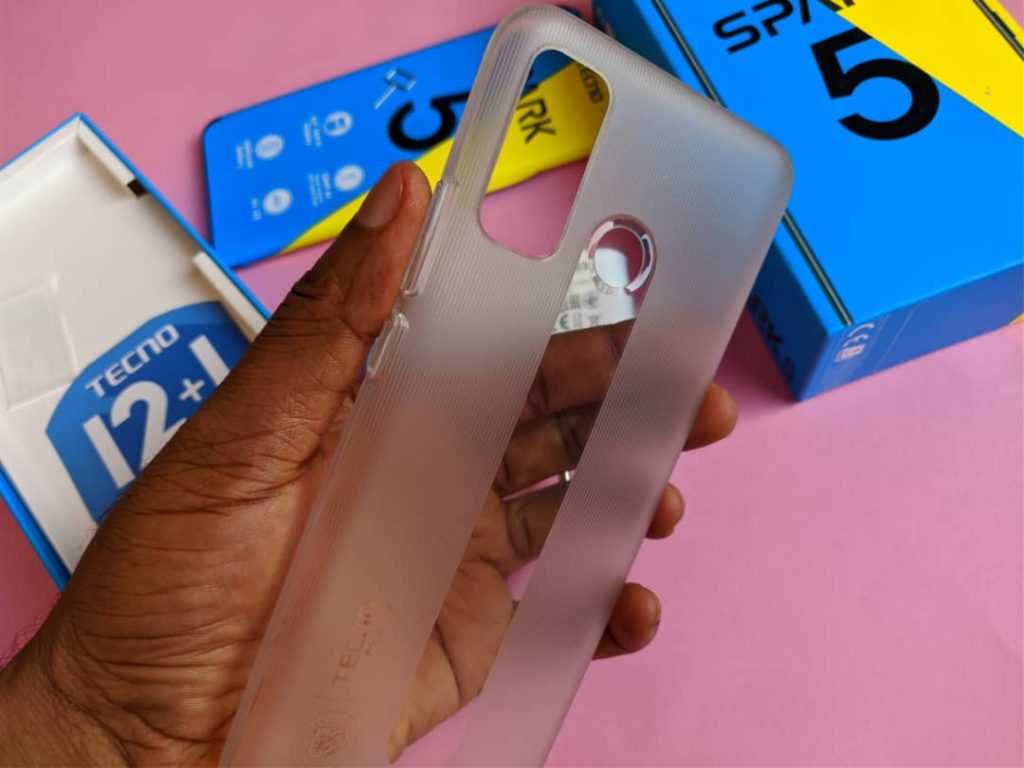 Moving on, we have a 10-watt charger, a micro USB charging cable, the earpiece, and a sim ejector tool and that's pretty much it inside the box.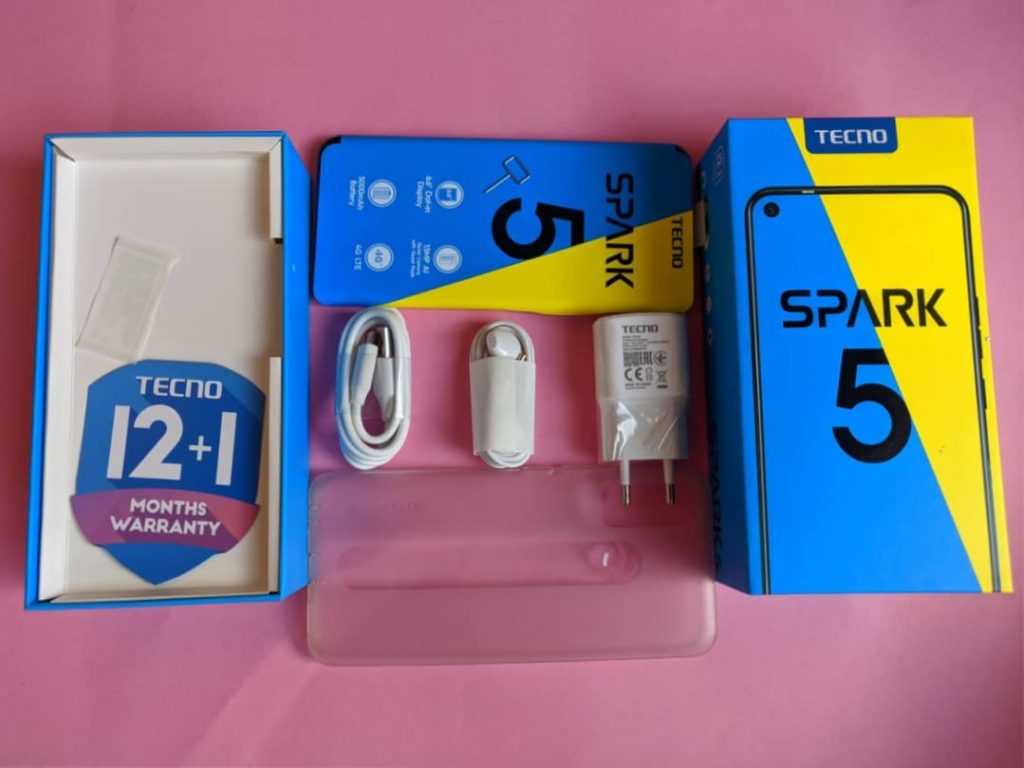 Upon lifting the device, the first thing you're going to notice is its immediate weight due to the huge 5000 mah battery. however, it feels compact and sturdy.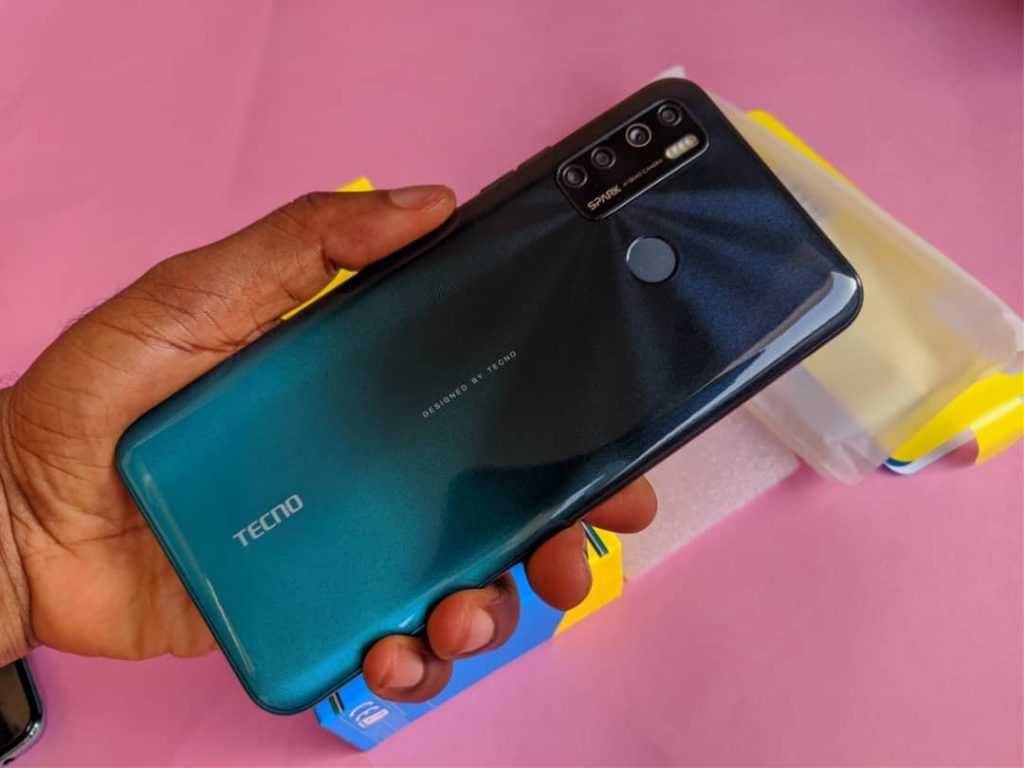 TECNO Spark 5 is an interesting device, especially from the design perspective. The premium look would convince one that is not an entry-level smartphone.
If it was to appear in a contest, it won't win any design award but coming from an entry-level point of view, I think it looks beautiful.
Spark 5 is made out of plastic which is what you're going to get from any device in this price category and it is not a bad thing.
The color I have here is called ice jadeite. It looks good and it will please anyone that considers a device in this price bracket.
The striking difference between the spark 5 and its predecessor is the punch-hole display.
OK, on the right side of the device, we've got the power button and the volume rocker keys and I like the red accent on the power button. It is nothing special but I think it looks cool.
To the left, we've got a sim tray that contains a slot for dual NANO SIM and a micro SD CARD.
At the bottom, we've got a 3.5mm headphone jack, a microphone, a micro USB charging port, and the speaker grill.
At the back, we've got a quad-camera setup with a quad flash. The cameras at the back consist of a 13mp main sensor, a 2mp macro lens, another 2mp depth camera, and a QVGA camera for low light. We have a fingerprint that is surprisingly fast and reliable all the time. Still at the back of the device, we have the spark and TECNO branding.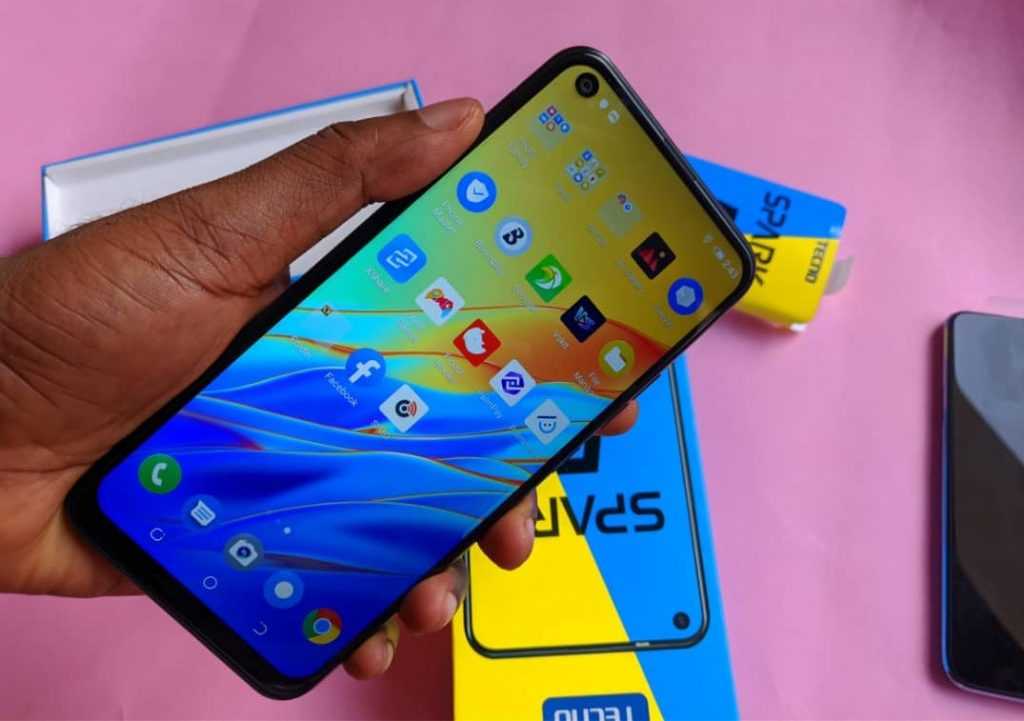 Upfront is a 6.6-inch HD plus display with a punch hole, in the punch hole houses an 8mp selfie camera. The display houses a resolution of 720 x 1600 with a pixel density of 266. it is sharp with good viewing angles, and there is no noticeable pixelation unless you keep it side by side with a much better display.
At this price bracket, I do not expect it to offer the best display on a smartphone, but it doesn't mean it cannot get better. Watching Youtube videos on it is decent and for what it is, it is ok.
The TECNO spark packs similar specifications like the pouvoir 4 I reviewed recently though with less Ram size if you haven't seen that video yet, I will leave a link in the description box below.
It comes with 2gigs of ram, a MediaTek helio a22 quad-core processor, a 32gb of internal storage, a 5000mah battery and what is running the show here is Android 10 with a custom skin which is TECNO's HiOS version 6.0 and the performance is marginally better, it handles basic tasks well, though the experience is not entirely smooth, there are some hiccups here and there, the thing is, don't just expect too much from it. I played some games and while it was playable, it didn't offer a smooth experience.
I guess no one will buy the TECNO spark 5 for the sake of playing the heavy game titles.
However, playing lite games like candy crush, subway surfers, and likes is very ok. Just bear in mind that the Spark 5 is an entry-level device.
The TECNO Spark 5 comes with a mono speaker and it is a down-firing type. when playing games you can accidentally black the sound.
I appreciate the jump from a 4000mah battery in the previous device to a 5000mah battery. The 5000 mah battery gets the job done, it endures for a longer period before giving up the ghost, on basic use, it can last for a day and a half without worrying about recharging it and when it is time to juice it up, the included charger took about 3hrs plus to charge from 0 to 100 percent.
Having a fast charger would have helped cut down the charging speed to at least half but I guess that wasn't intended for the Spark 5.
About the camera, the TECNO spark 5 does a pretty decent job, it is not mind-blowing. For the price, the images are very ok, it is sharp with good details, in some cases high dynamic range is good and the colour reproduction is decent too, edge detection in portrait shot is also good though not consistent, but it gets the job done.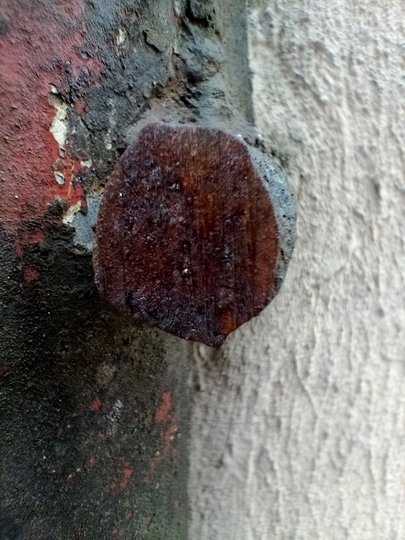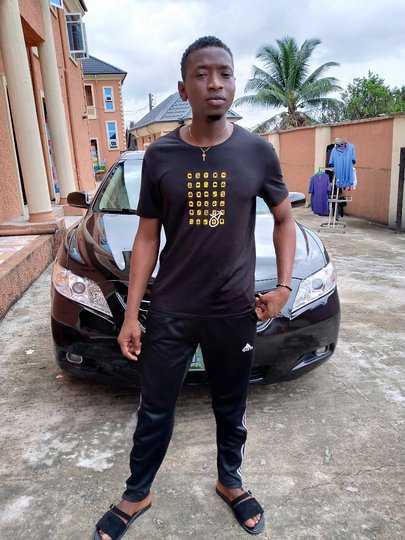 The 8mp selfie shooter, on the other hand, is decent as well and it shoots video in 1080p resolution and it is ok.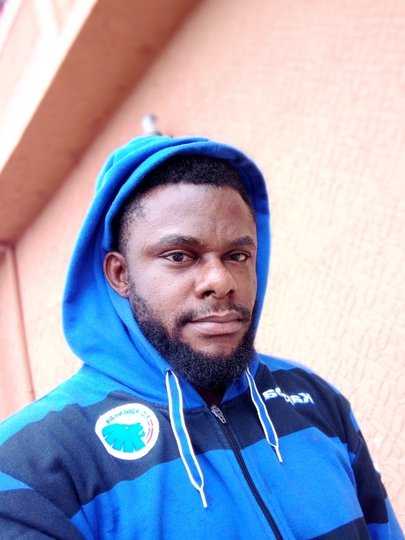 The TECNO spark 5 is a decent and compelling device for the price, it is a nice bargain.
At N49,000 you get a device with a huge display and a massive 5000 mah that can endure for days, from me I will give it a pass. But I wished it had up to at least 3gigs of ram and a much lesser cluttered user interface that would have further improved performance.
But hey, it is what it is.
So do I recommend it? I will say yes and at the same time, if you can step up to it bigger siblings like the Camon 15 which comes more extra features like the 48mp camera and up to 6gb of ram.
But if there is no right from left, then you can settle with the spark 5. it can handle your basic tasks effectively, like phone calls, emailing, web browsing, and some light gaming.
Share your thoughts with me in the comment section below, let's discuss.