What do you know about teeth braces, types, side effects and prices in Nigeria? This article would enlighten you. So, enjoy the read.
Braces are devices used in orthodontics that align and straighten teeth. This is to improve how they look and give a better smile.
This works by putting pressure on the teeth and slowly moving them in the right direction.
Although braces are best to be worn in childhood, they are for any class and age. Braces are worn by both adults and kids with dentition problems. Some of these dentition problems are
Crowded teeth.
Crooked teeth.
Overjet or protruding teeth: these are upper front teeth that stick out.
Not enough or too much spacing between your teeth
Overbite: these are lower teeth that bite too far behind your upper teeth
Underbite: upper front teeth that bite behind your lower ones
The appearance of your smile.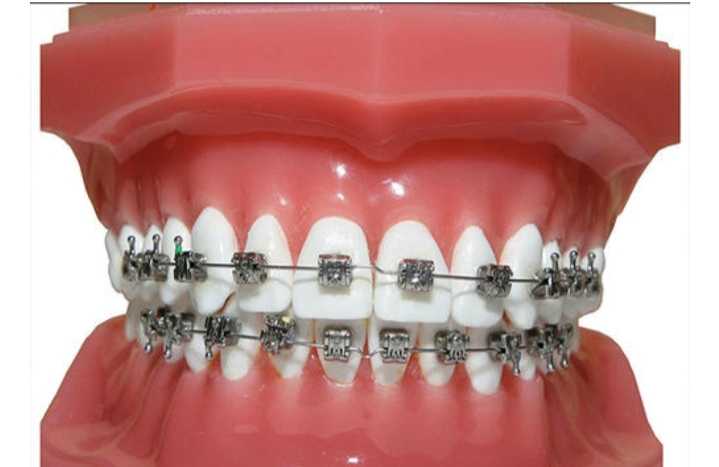 Types
Braces are of different types and quality
Metal Braces
These are made with metal brackets and an elastic wire which holds them together.
It works the fastest and is the cheapest.
It takes about three weeks for any movement to happen using these braces and three to ten weeks for adjustments to fully happen
These metal Braces comes in three different forms:
Stainless steel
Titanium: This is just stronger than the others and lighter in comparison to the stainless steel
Gold: Most people's reasons for using gold plated braces is because of the golden and shiny look it gives. It can also be used by those allergic to the stainless steel type.
Note: stainless steel braces are just as good as the rest and only a few people are allergic to it as a result of the novel in it.
Ceramic Braces
These are translucent in appearance and takes the colors of the tooth and making it less noticeable. Being that they are not abrasive, ceramic braces are more durable and less painful on the gum and cheeks. They can last throughout the whole procedure and do not interfere during the imagining test, unlike steel, which disrupts signals during the test. It's more expensive due to its high quality.
Invisible Braces
These are more comfortable to wear and are used mostly by older people. They are hard to notice when worn and are the most expensive of all the braces. They are in two different forms.
Unlike other braces, lingual braces are fixed to the back of the teeth instead of the front. This makes it near impossible and hard to predict when it's worn. They are comfortable.
These are made of transparent plastics. Here, a scan is done on the teeth mold to determined the stages left to attain the desired teeth position or look. Each aligner is usually worn 20 hours a day for two weeks. While it takes one-year, a month, and fifteen to twenty days to complete the process.
Side Effects And Tips On How To Care For Your Braces While In Use
While the chances of anything bad happening from using braces are very slim, some side effects may occur as a result and they are;
Sore tongue and soft tissue injuries
This usually happens at the beginning of the treatment, but once you get used to wearing braces you won't feel it anymore. For soft tissue injuries, you have to pay more attention to your mouth and be careful not to bruise yourself while doing anything.
Allergic Reactions
Although this doesn't occur often, some people may experience some forms of irritation while using braces. While some react to the rubber latexin, the elastics used in making some of these braces, others are allergic to the nickel in the metal or steel braces. These allergies should be communicated with your dentist to know the right kind of braces suitable for you.
Jaw pain
This can also be an issue while using braces especially if your jaw has to be realigned during your treatment. Normal pain killers can help in relieving or stopping the pains completely.
Tooth Decay
Although, this may happen to people without braces when they do not properly care for their teeth by maintaining good hygiene. That's the same way it would also affect those using braces. So to avoid this, one has to brush twice daily or after every meal if possible and floss daily too. If this persists then you need to see your doctor fast.
Relapsed Teeth
This is the relapsed or movement of the teeth to its former position. This usually occurs when braces are taken off and then retrainers are being employed but not used until the final stage. So to avoid this, patients have to wait until after treatments have been completed and the doctor has given a go-ahead to take off your retrainers.
Decalcification
This appears like a white patch on the teeth and just like tooth Decay, this is a result of poor hygiene maintenance. To avoid this always brush twice and make sure to floss out remnant food particles.
Root Reabsorption
This is the shortening of the teeth roots during the time the person puts on braces. This is a rare occurrence and even though the cause is yet to be known, using braces for more than 2-3years can result in it. So, to avoid this, always do well to show up for all your doctor's appointments. This will help to identify it on time, through x-rays and commence treatment.
Difficulty while eating
You might have difficulties in chewing and eating food especially solid meals if you're using braces. But with time this will no longer be an issue.
Tips
To care for your teeth while wearing a brace you have to
Maintain proper personal hygiene.
Cut down on sugary food and drinks.
Use toothpaste with more fluoride.
Prices Of Braces In Nigeria
The prices can be determined by the type of braces used, how serious the conditions for it are, and how long you get to use it. While some facilities might charge from N300,000 to N800,000, others, especially private establishments might charge up to N2million. The prices for braces in Nigeria based on the type used and clinical services are:
Metal braces:  They cost between N500,000 to N1.5million.
Ceramic braces: Price N800,000 to N1.2million.
Invisible braces: they are the most expensive.
Conclusion
Just like every other feature of the body is important, so are your teeth. And yes braces are worth the effort put into them because, aside from fixing your teeth, it gives you a confident smile and gives your mouth and jawline a more natural look.
So, even after taking off your braces, make sure you stick to your retainers until your doctor says otherwise to avoid putting all this effort and money to waste. Else you'll get a relapsed teeth and I know you don't want that. Take care and enjoy your new smile😘.