Here, we would be talking about the popular Big Brother Naija contestant; Terseer Kiddwaya biography and net worth.
You would discover all you need to know about Terseer Kiddwaya biography, net worth as of 2020, lifestyle, career, family, personal life among other amazing facts.
Bet you would want to unravel facts about this personality; let's get you started;
Who is Terseer Kiddwaya
Terseer Kiddwaya popularly addressed as "Kiddwaya" is the son of a billionaire; Terry Waya. He is a young Nigerian entrepreneur and also a fitness enthusiast; currently a Big Brother Naija season 5 ( lockdown show) contestant.
Kiddwaya is quite a handsome young manand someone who always speaks his mind; his attitude in the BBN show would attest to this fact.
Terseer Kiddwaya Biography
Terseer Kiddwaya was born on 5th March 1993 in Lagos State, Nigeria. His state of origin is Benue State; TIV, to be precise.
He is the son of Terry Waya a successful business mogul who is currently based in London, the UK, and Susan Waya, a philanthropist, housing practitioner, business analyst, activist, and politician.
Kiddwaya lived for about six years in the United Kingdom before shuffling between Nigeria, London, and Berlin.
He studied at Nottingham Trent University, England where he obtained his first degree and a Master's degree in business management.
For those who know him personally or from the BBNaija show would know that this young man is confident and ambitious. According to him, he said he would not compromise bringing back the fun into the house.
Being the son of a billionaire, one would consider Terseer Kiddwaya a "Rich Kid".
Kiddwaya Career
Kiddwaya is the CEO of Vally Agricultural and Foods Company and also the co-founder of AK Exports. He is a self-employed businessman.
He decided to contest in the BBN SHOW probably for the grand prize or just for the sole purpose of meeting people. His reasons for participating we know not.
Terseer Kiddwaya Family and Wife
Kiddwaya is not married. However, he has reportedly been in several relationships of which four years was the longest time frame of all his relationships. There is also a rumor that he, Kiddwaya, might be involved in a relationship with the famous DJ. Cuppy daughter of Femi Otedola, although this is yet to be confirmed. Being someone confident, he would probably be attracted to confident and energetic women.
Those who watch the BBNaija show have also noticed that Kiddwaya is having a romantic affair with another housemate, Erica Nlewedim. Despite his affair with Erica, Kiddwaya revealed that he is not trying to be in a serious relationship in a conversation he had with Nengi who is also a BBN housemate. Even when he was asked if he had feelings for Erica his reply was;
"I don't know if I have feelings for her, but I'm enjoying my time with her.."
Aside from his immediate family, Kiddwaya has not started any family of his own so no wife yet.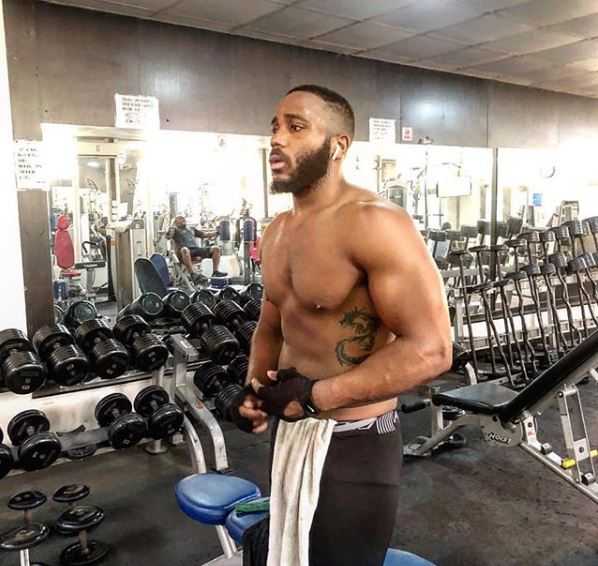 How many children does Kiddwaya have?
No information about Kiddwaya having any child has been reported; so, for now, all we know is that he is not married and has no child at all.
Kiddwaya Net Worth
Kiddwaya is a successful Nigerian entrepreneur who is doing well for himself. Though his Net Worth has not been fully estimated it is said to be equivalent to about $20,000.
He however made a statement in the BBNaija house that his net worth cannot be compared with that of the other housemates as his, is bigger than that of them all. This is what he said in a conversation with Erica;
"I don't take things seriously in this house; if I did I would have had issues with some housemates.
"I know what I have outside; my net worth cannot be compared with them outside here.
"Nobody compares. They don't compare to me, not like am bragging or something but, my net worth, my bank account doesn't compare to them."
Kiddwaya Age and Height
Kiddwaya born in 1993 is currently 27 years old. Concerning his height, Kidd is an average guy having a height of 5″11½.
Kiddwaya Cars and Houses
As expected of a son of a billionaire, Kiddwaya has a very plush house and car.
You can see pictures of these on his Instagram page.
Biggest Achievements?
The BBNaija housemate; Kiddwaya said that getting into health and fitness has been his greatest achievement. He said, and I quote,
"Getting into health and fitness has been my biggest achievement. I used to be quite Chubby, so I transformed my body and I have been consistent ever since"
Is Kiddwaya Dead or Alive?
He is very active and has great success in the Big Brother Naija show. He is very much alive and vibrant.
Kiddwaya Instagram Followers
As a famous personality, Kiddwaya is trending all over social media; Instagram, Twitter, Facebook and has a huge amount of followers of over 412K on a verified Instagram account.
He can be followed on Instagram through his handle; @kiddwaya and on Twitter– realkiddwaya
Other Amazing Facts about Kiddwaya you might love to know:
· Kiddwaya used to be chubby
· He paid for a private jet to travel to Lagos from Abuja for the official screening of the BBNaija season 5 show with a whole sum of $8000 ( equivalent to 3million naira)
· He was once involved in a street fight.
· He gets irritated by lazy people
· Kiddwaya prefers IOS phones to Andriod phones
· He intends to run an organization to empower and enhance the talents of youths.
Profile Summary of Terseer Kiddwaya
Name: Terseer Kiddwaya
Date of birth: 5th March 1993
Place of birth: Lagos
Age: 27
State of origin: Benue
Tribe: TIV
Nationality: Nigerian
Parents: Terry and Susan Waya
Occupation: Entrepreneur
His words to live by; "You never know when your time is up, so you might as well go for it."
Pictures of Kiddwaya
Kiddwaya has drawn the attention of so many people nationwide especially the ladies, with his exotic style, amazing body and cute face as displayed in the pictures I would share with you down below