In this blog post we would be talking about a popular and amazing personality; Tony Elumelu. His net worth and children would be revealed.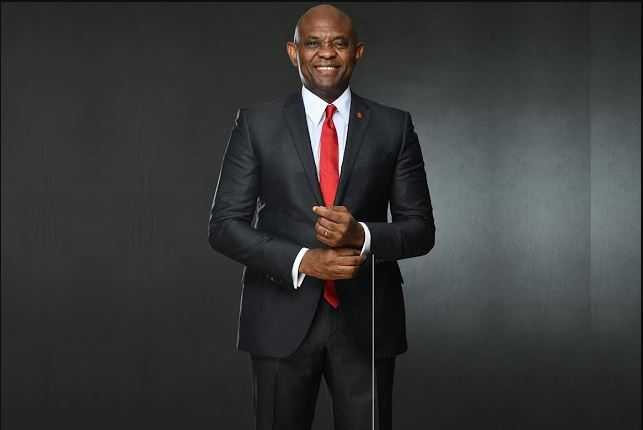 We would unravel, and you would discover intriguing facts about this entrepreneur and philanthropist; ranging from his biography, net worth 2020, his family, children, career, lifestyle, among other exciting facts.
Let's get started;…
Who is Tony Elumelu?
Full name; Anthony Onyemaechi Elumelu is an African economist, philanthropist, and entrepreneur. He was a one-time chairman of the United Bank for Africa, chairman of Heirs Holdings, Transcorp, and also the founder of the Tony Elumelu Foundation. He is the author of "Africapitalism".
Tony Elumelu also held the Nigerian national honors, Member of the Order of the Federal Republic(MFR) in 2003, and the commander of the Order of Nigeria(CON).
He is considered one of the richest in Nigeria.
Tony Elumelu's Biography
Tony Elumelu, born on the 22nd of March, 1963 in Jos, Plateau state is one of the richest men in Nigeria. He is a businessman and philanthropist from Onicha-Ukwu in Aniocha North Local Government Area of Delta State, Nigeria.
He obtained two degrees in economics; a bachelor's degree from Ambrose Alli University and a Master's degree from the University of Lagos. He is an alumnus of the Advanced Management Program of Harvard University Business School, Singapore Institute of Management (SIM), and The International Institute of Management Development (IMD), Lausanne, Switzerland.
He is the chairman of Transnational Corporation of Nigeria, United Bank of Africa (now retired), and Heirs Holdings. Tony Elumelu has four (4) siblings; the former member of the Nigeria Federal House of Representatives, Ndudi Elumelu is his brother. In 1993, he married his wife Awel Vivien Elumelu, who is a medical doctor and they are blessed with beautiful children.
Early Career And Coming Into The Limelight
During his youth days, he worked at the United Bank of Africa.
Tony rose to limelight in 1997 after he led a group of small investors in taking over a declining commercial bank in Lagos. In 2003, the honor of membership of the Federal Republic was conferred on him by the Federal Government of Nigeria.
Mr. Tony Elumelu in his early career turned Standard Trust Bank(STB), which was financially fading into a top-five financial service player in Nigeria. He later merged the bank with the United Bank of Africa-UBA in 2005. Currently, UBA operates in 20 African countries, New York, London, and Paris.
Career 2010-Date
After merging the Standard Trust Bank with the United Bank of Africa, he became the chairman until his retirement in 2010. He then founded the Heirs Holdings also in 2010.
Heirs Holdings is an investment company that is committed to improving lives. It's portfolio cuts across the financial services, hospitality, oil and gas, power, health care, and real estate sectors and operates in 23 countries worldwide.
In 2012, he became a commander of the Order of Niger for his service in promoting private enterprise.
Tony Elumelu is also the founder of "The Tony Elumelu Foundation (TEF)", a leading African philanthropic initiative that champions and heads entrepreneurs and entrepreneurship across the continent. He is an advisor to the USAID'S Private Capital Group for Africa (PCGA) partners forum and also the vice-chairman and one of the key personnel in the formation of the National Competitiveness Council of Nigeria (NCCN). He heads the Nigerian President's Agricultural Transformation Implementation Council (ATIC). He is also a co-chairman of the Aspen Institute Dialogue Series on Global Food Security and the 26th World Economic Forum of Africa in Kigali, Rwanda between 11th and 13th May of 2016.
Aside from him being very successful, he is well known for his philanthropic nature. Tony sits on several boards and chaired several initiatives for African development.
Family And Wife
Tony Elumelu is happily married to Awel Vivien Elumelu, who is a medical doctor and also doing well for herself. They got married in 1993 and are blessed with children.
How Many Children Does Tony Elumelu Have?
Tony Elumelu has seven (7) children; five (5) girls and twin boys.
Tony Elumelu's Net Worth
Undoubtedly, Tony Elumelu is a very wealthy man. With so many investments, business, and assets. His net worth was estimated to about $700 million as of 2015, but currently, this 2020, his estimated net worth is about $1 billion. He was ranked the 31st in 2015 on Forbes Africa's Richest.
| | |
| --- | --- |
| Estimated Net Worth in 2020 | $1 billion |
| Net Worth as at 2015 | $700 million |
| First Name | Tony Onyemaechi |
| Last Name | Elumelu |
| Occupation | Investor, Businessman, and Philanthropist |
| Age | 57 years |
| Birth sign | ♈ Aries |
| Date of Birth | March 22, 1963 |
| Place of Birth | Jos, Plateau state |
| State of Origin | Delta State |
| Country | Nigeria |
Tony Elumelu's Age And Height
Tony Elumelu was born on March 22, 1963. He is presently 57 years old. He is an average tall man, considering his height.
Tony Elumelu's Awards And Recognition
Tony, being the man that he is, had several recognitions and awards which he well deserved. Some of which are:
Membership of the Order of the Federal Republic in 2003
National honor in 2006
He was awarded the African Banker of the year by the African Banker Magazine in 2008
He was given National honor as commander of the Order of Niger in 2012
He was recognized as one of Africa's 20 most powerful people by the Forbes magazine in 2012
He was also recognized as one of the 100 most influential Africans in business by New African Magazine in 2012
He earned a leadership award in business and Philanthropy from the AAI in 2013
Recognition as one of ESI's most influential figures in Africa Power in 2015
Another was the GECI Academy's Lifetime Achievement Award in 2016
Tony Elumelu's Cars And Houses
As expected; Tony Elumelu has several cars and houses to his name. You can see pictures of some of them on his Instagram account that I would share later.
Is Tony Elumelu Dead Or Alive?
He is very much alive and vibrant, carrying out his affairs.
Instagram Followers
As a popular and influential figure, he has huge followership of over 560k followers on Instagram. He can be followed on Instagram through his handle; @tonyoelumelu.
Tony Elumelu's Pictures
Tony Elumelu has gained the hearts of several Nigerians and beyond, and so we want to share some of his beautiful pictures and moments with you.