Over the years capitalism has lead to many millionaires and billionaires. An economic system based on private ownership of the means of production and their operation for profit seems to among the best plan in becoming successful in today's world. Do you know there are 2,153 billionaires in the world right now according to Forbes?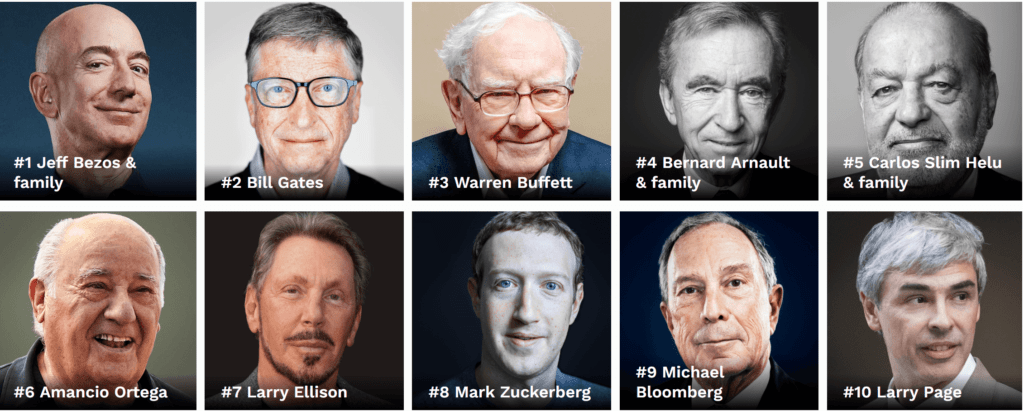 Forbes isn't just your regular newspaper company at the roadside vendor. This is an American business magazine with huge credibility around the world. They write original articles on finance, industry, marketing, and investing. Without wasting much of your time, this is the top 10 richest men in the world according to Forbes.
Jeff Bezos & Family – $131 Billion
Jeff Bezos is the richest man in the world. This is the man that started Amazon (an e-commerce colossus) out in his garage in Seattle. He owns a 16% stake of the company and currently is the CEO. In April 2019, Jeff announced he will be transferring 4% of Amazon to his wife; MacKenzie Bezos, as they are working on divorce after 25 years of marriage. The divorce is rumoured to be finalized in July 2019. This divorce will make MacKenzie Bezos one of the richest women in the world as she will be getting tens of billions worth of Amazon stock. In 2018, Amazon recorded a net profit of $10 billion.
Bill Gates – $96.5 Billion
Next on the list at no. 2 is the world famous Bill Gates. He and his wife Melinda owns the world's largest private charitable foundation – Bill & Melinda Gates Foundation. Gates is a loving philanthropist that works tirelessly to save lives and improve global health. He owns only 1% shares of Microsoft cause he has either given away or sold virtually all his stakes. He has donated $35.8 billion worth of Microsoft stock to his foundation till date.
Warren Buffet – $82.5 Billion
Warren Buffet (popularly known as the 'Oracle of Omaha') is one of the smartest and successful investors this world has ever known. He is the chairman and CEO of Berkshire Hathaway; an American multinational holding company. The company wholly owns the likes of GEICO, Helzberg, Duracell, Lubrizol, Dairy Queen and others, while having shares in big brands like Apple, Coca-Cola, Wells Fargo, Bank of America and more. Buffet is also known for his philanthropic works, especially in 2018 when he donated $3.4 billion to Bill & Gates Foundation.
Bernard Arnault & Family – $76 Billion
Bernard Arnault is one of the world's ultimate tastemakers. The French business magnate is the richest person in all over Europe. He chairs an empire of over 70 brands including the likes of Sephora and Louis Vuitton. Bernard runs a family empire with his daughter, Delphine being the executive vice president of Louis Vuitton and also an executive committee member of his luxury goods group; LVMH.
Carlos Slim Helu & Family – $64 Billion
Carlos Slim is the richest man in Mexico. He and his family control Latin America's biggest mobile telecom firm called 'America Movil'. In 1990, Carlos bought the only phone company in Mexico – Telmex, which became a part of America Movil. He owns a 17% stake of the New York Times.
Amancio Ortega – $62.7 Billion
Amancio Ortega is the wealthiest retailer in the world. He is a pioneer in the fashion world. He reportedly earns $400 million yearly as dividends, which is invested in real estate chain in cities like Madrid, Barcelona, Chicago, London, and New York.
Larry Ellison $62.5 Billion
To tap into the growing need for customer relationship management system, Larry Ellison co-founded Oracle in 1977. Oracle is a software firm that sells its own brand of database management systems, technology, database software, cloud engineering systems, and enterprise software products.
Mark Zuckerberg – $62.3 Billion
At the age of 19, Mark started Facebook with four of his colleagues at Harvard University in 2004. The online social networking went public in May 2012. Mark owns about 15% of Facebook. In December 2015, Mark and his wife Priscilla pledged that over their lifetimes, they will give away 99% of their Facebook stake.
Michael Bloomberg – $55.5 Billion
Michael Bloomberg founded Bloomberg L.P. (a financial information and media company) in 1981 with the help of Thomas Secunda, Charles Zegar, and Duncan MacMillan. The former Mayor of the New York City plans to spend at least $500 million in his bid to defeat Donald Trump in the 2020 Presidential elections.
Larry Page – $50.8 Billion
Lawrence Edward Page is the CEO of Alphabet; an American multinational conglomerate. Alphabet is the parent company of Google, Calico and a host of other notable company. Larry Page along with Sergey Brin founded Google in 1998.