Umobile is the official mobile banking app for the United Bank of Africa (UBA). The app offers you a completely enhanced mobile banking experience with features that save you time. If you're an account holder of this bank or a prospective account holder, this app is needed for your everyday needs.
It saves you time and stress of having to walk into the banking hall just to make a little transaction. And often, you are greeted with a long queue in the banking hall. In this modern age, don't go through all those hassles. Are you an Android user? Or an iOS user? UBA got its customers covered on both fronts. The app is available on both Google playstore and Apple's App Store.
With this Mobile app, you can send and receive money from family and friends. One can also pay utility bills such as Electricity, GOTV/DSTV, StarTimes TV, Water, Internet services e.t.c. You can also recharge your phone line or anyone's line. The app airtime feature includes all network providers in the country; MTN, Airtel, Etisalat, Vodafone, Glo and Visa phone.
How to Download the UBA Mobile App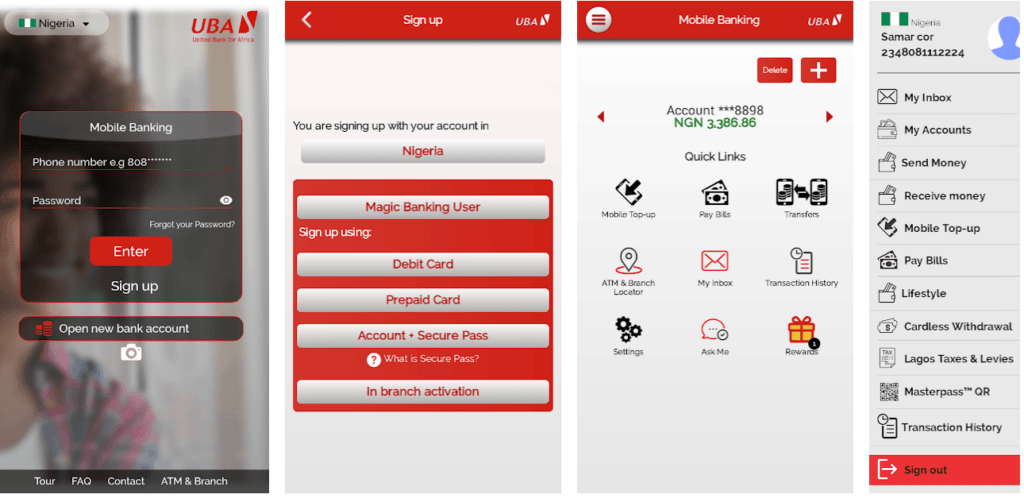 It is easy to download the UBA Mobile Banking App. Just follow the steps listed below to get the UBA Mobile Banking App on your smartphone.
Visit your operating system app store and search "UBA Mobile Banking App". Android users, your operating system app store is called 'Google playstore'. iOS users will see the app in Apple's app store. The same thing goes to the users of Blackberry operating devices.
And if you don't like the option of visiting the app store or for some reasons you don't have your operating system's app store on your smartphone, then visit the UBA website https://www.ubagroup.com/nigeria/personal-banking/digital-banking/mobile-banking/ to download the Mobile Banking App.
While on the mobile banking page, click on the operating system of your device and it will redirect you to the download page. Then click on download and have it downloaded to your smartphone.
How to Activate the UBA Mobile App
After downloading the Mobile Banking App using any of your preferred methods, you'll need to activate the app before you can start making a transaction with it. These following steps will guide you on how to activate the UBA Mobile Banking App. You can activate the app using any of the following options; UBA Debit Card, UBA Prepaid Card, and UBA Account + Secure Pass.
Open the UBA Mobile Banking App
Click on the "New Mobile Banking Customer?" tab
Choose your preferred option depending on your card details or security pass.
Fill a short form with your necessary details. Choose your PIN and confirm it. Then select 'Save'.
After successful activation, the Mobile Banking App should start working and ready to assist with your transactions. NB: you may be required to visit the nearest UBA branch if the Mobile Banking App doesn't work yet. A customer care representative at any UBA Branch will help you get the Mobile App activated and working.
Features of UBA Mobile App
Quick selection of phone numbers from device contacts lists for airtime top up.
24-hour customer service support via live chat.
ATM/Branch locator.
Favourites list creation for easier transactions.
Automation of OTP received via SMS on the transaction screen.
Quick log-in within a few seconds with the biometric option on devices that support this feature.
Faster navigation with the sliding menu available on all user sessions.
Fewer, more intuitive screens enhancing user experience.
Auto reminders for recurring bill payments and transfers.
With this UBA Mobile Banking App, you get secured and unrestricted access to your account at any time of any day. This is the real definition of 'Banking on the go'.