Arik Air is a Nigerian airline that was founded in 2002 but commenced operations in 2006. The company has 22 fleets making them one of the largest airlines in the country. They operate both domestically and internationally with over 150 flights daily.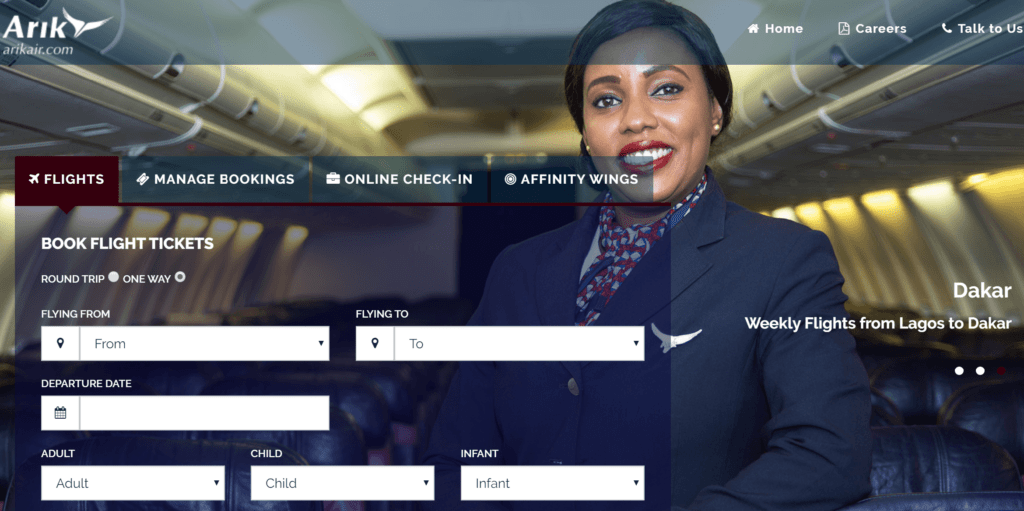 The parent company of Arik Air is the Asset Management Corporation of Nigeria (AMCON). Arik Air allows prospective customers to book for their flight online. This method is convenient for most people in today's modern world. We have put together this article to show you how to book online for your Arik Air flights.
How many aircraft does Arik Air have?
Arik Air airline currently has 22 aircraft. The aircrafts include nine Boeing 737-700, four Boeing 737-800, four Bombardier CRJ900, one Bombardier CRJ1000 and four Bombardier Dash 8 Q400.
List of Arik Air Destinations around the world
Arik Air flies to 28 destinations both locally and internationally. Below is the full list of destinations they operate in;
Quatro de Fevereiro Airport, Luanda, Angola
Douala International Airport, Douala, Cameroon
Leon M'ba International Airport, Libreville, Gabon
Banjul International Airport, Banjul, Gambia
Kotoka International Airport, Accra, Ghana
Félix-Houphouët-Boigny International Airport, Abidjan, Cote d'Ivoire
Roberts International Airport, Monrovia, Liberia
Nnamdi Azikiwe International Airport, Abuja, Nigeria
Asaba International Airport, Asaba, Nigeria
Benin Airport, Benin City, Nigeria
Margaret Ekpo International Airport, Calabar, Nigeria
Akanu Ibiam International Airport, Enugu, Nigeria
Gombe Lawanti International Airport, Gombe, Nigeria
Ibadan Airport, Ibadan, Nigeria
Ilorin International Airport, Ilorin, Nigeria
Yakubu Gowon Airport, Jos, Nigeria
Kaduna Airport, Kaduna, Nigeria
Mallam Aminu Kano International Airport, Kano, Nigeria
Murtala Muhammed International Airport, Lagos, Nigeria
Sam Mbakwe Airport, Owerri, Nigeria
Port Harcourt International Airport, Port Harcourt, Nigeria
Sadiq Abubakar III International Airport, Sokoto, Nigeria
Akwa Ibom Airport, Uyo, Nigeria
Warri Airport, Warri, Nigeria
Yola Airport, Yola, Nigeria
Blaise Diagne International Airport, Dakar, Senegal
Lungi International Airport, Freetown, Nigeria
Heathrow International Airport, London, United Kingdom
How to Book Arik Air Flight Online
There are various third-party travel companies in Nigeria where you can book for your flight online. The likes of Wakanow, Agoda, Jumia travel, Expedia, Travelstart and many more. While these are good legit companies, the travel online space is filled with scammers.
So, it is always advisable to book directly from the airline website you intend flying with. Intended Air Peace travellers should book with Air Peace, same with goes to Dana Air.
In this case, since we are talking about Arik Air, we will be showing you how to book Arik Air flight online directly from them.
Go to their official website https://www.arikair.com
On the home page, you will be greeted with 'book flight tickets form'. Choose your preferred trip segment. The two available segments are 'Round Trip' or 'One Way'.
Choose where you are flying from i.e the city, and county.
Then choose where you are flying to, which is also a city and county.
Choose the departure date. And a return date if you had chosen the 'return trip segment'.
Choose the number and type of passengers travelling with you. How many adults, child and infant?
Click ' Flight Search'
On the next page, Select your flight(s) time and class according to the number of flights available.
Click 'continue'
Fill in the passenger details. The mandatory ones are marked with an asterisk (*) or login if you have an Arik Air account.
Click 'continue'
Choose your payment type from Card Payments. By card or book on hold method.
Click to agree that you have read, and accepted the Arik Air General Terms and conditions.
Click 'Buy Ticket'
Make your payments via your card or If you choose the Book-on-hold payment method, go to any Nigerian Bank; and ask to use pay the direct payment.
You can also visit www.quickteller.com and type Arik Air in the search field. Fill in your email address and booking reference to complete payment.
You can as well download their official app on the Google Play Store or Apple store to book your flight online when next you want to do so
Contact Arik Air Customer Number Support
If you have any enquiry, complaint, or request, you can reach out to Arik Air customer support using any of the medium below;
Call on +234 1 279 9999
Fill out this customer feedback form on their website https://arikair.crane.aero/web/Feedback.xhtml
Follow on Twitter @ArikAirlineNg Facebook @ArikAir