This post is about how you can easily download Nigerian movies from Irokotv. IrokoTV is an on-demand subscription-based streaming platform for Nigeria and African movies. It's actually very popular in the Western part of Africa. In this article, we'll be showing you how to download Nigerian movies from IrokoTV.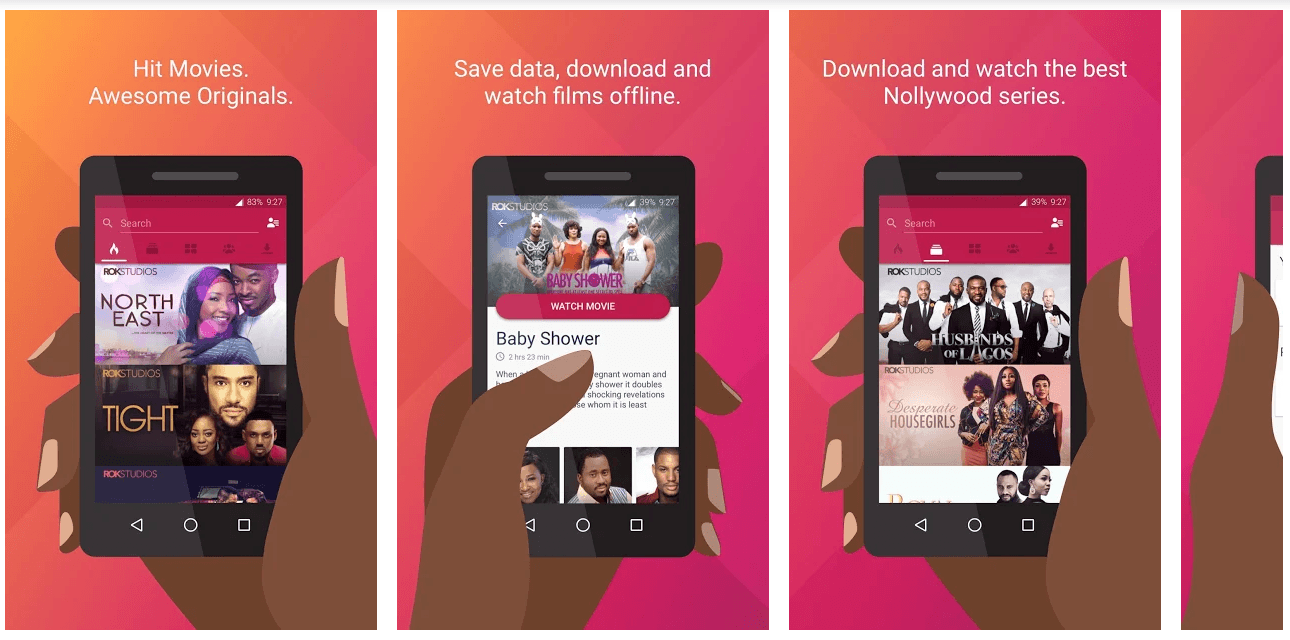 The platform grants you access to the world's best Nollywood movies and TV series you can think of. You can now download movies offline to your device and watch them at your free time without additional data. Firstly, you need to get the IrokoTV app downloaded and installed to your device.
How to download IrokoTV mobile app
This is how you can download Iroko Tv to watch Nigerian movies
Go to your operating system app store i.e Google playstore or Apple's app store.
Search for "IrokoTV"
Download & Install the app to your device. Then open the app.
You can either log in or sign up with your phone number. You can also link your existing irokotv.com account.
Then subscribe to give unlimited access to their movies library.
Features of IrokoTV
You can watch the best Nollywood movies and TV series on the go
Unlimited unique contents worth paying for.
Data Saver download.
Livechat support.
Ability to search for actors and actresses to see their featured movies.
User Profile containing all your personal information.
File-Sharing: Share your downloaded contents with friends and family.
How To Download Nigerian Movies From IROKOTV
Have you been searching for how you can download Nigerian movies from IrokoTV? This steps below will guide you on how you can download Nigerian movies from IrokoTV
Open the IrokoTV app on your device.
Search or Click on any movie you wish to watch.
Instead of streaming it, request for download. There are two download types; High-quality download and Data saver. You'll see the required MB for each download.
Click on your preferred option to download the movie.
On the top is the navigation menu with the download button feature at the far right side. Click on it.
Here you'll see all the available movies you have downloaded. You can send movies to friends and family.
Note that you can only keep a movie downloaded for 30 days after which you'll be required to download the movie again. So make sure you either watch or send it before the stipulated time.
What is the Subscription fee for IrokoTV?
You get to watch as many TV shows and movies as you want for only N3000 (three thousand Naira) per 12 months. Method of payment includes mCash, Bank transfer, Pay with *737# and Chat on WhatsApp.
How to cancel your subscription on IrokoTV
For some reasons you don't wish to keep your subscription running with IrokoTV, you can easily cancel it. To do this, follow the below step;
Open the IrokoTV app or visit their website at www.irokotv.com
Go to the User Profile page
You'll see the "Cancel Subscription" option. Click on it.
Even after cancelling your subscription, IrokoTV will still grant you access to their services until the allotted expiration date.
Who is the owner of IrokoTV?
Jason Njoku and Bastian Gotter founded IrokoTV Partners which is the parent company of IrokoTV. IrokoTV Partners was founded in December 2010 and a year later, IrokoTV was formed. When it comes to digital distribution of African movies, IrokoTV is the best. It is often called the 'African Netflix'.
How to Contact IrokoTV
For more enquiries or information, you can contact IrokoTV customer care representative;
Email: support@irokotv.com
Call/WhatsApp: +234 817 892 4632.
You can use the LiveChat feature on the mobile app to speak to a customer care representative immediately.
Conclusion
There you have it guys on this article about how you can download Nigerian movies from IrokoTv and everything other things you will like to know about Irokotv. Which include features of Irokotv, how to use and subscribe to Irokotv, how you can cancel your subscription on Irokotv and finally how you can contact them.