First National Bank offers a very unique card which is the black card that comes in either debit or credit with different features and merits.
What is FNB Black Card
FNB black card is a card that is established majorly for people that earn more than approximately R750,000 annually. This type of card is most common among high net-worth people. You can easily deduce the name of the card from the color itself (black). One of the advantages to black card users is that they have access to a credit facility of about R300,000. Other advantages to being a user of the debit black card include:
Opportunity to use your card to buy air-plane ticket and other online purchases which may be up to forty per cent of the whole purchase.
Black card users have opportunity of withdrawing up to R10,000 without withdrawal charges.
Black card users enjoy access to free monthly recharges.
You will be able to enjoy free monthly money transfer.
 FNB Black Card Requirement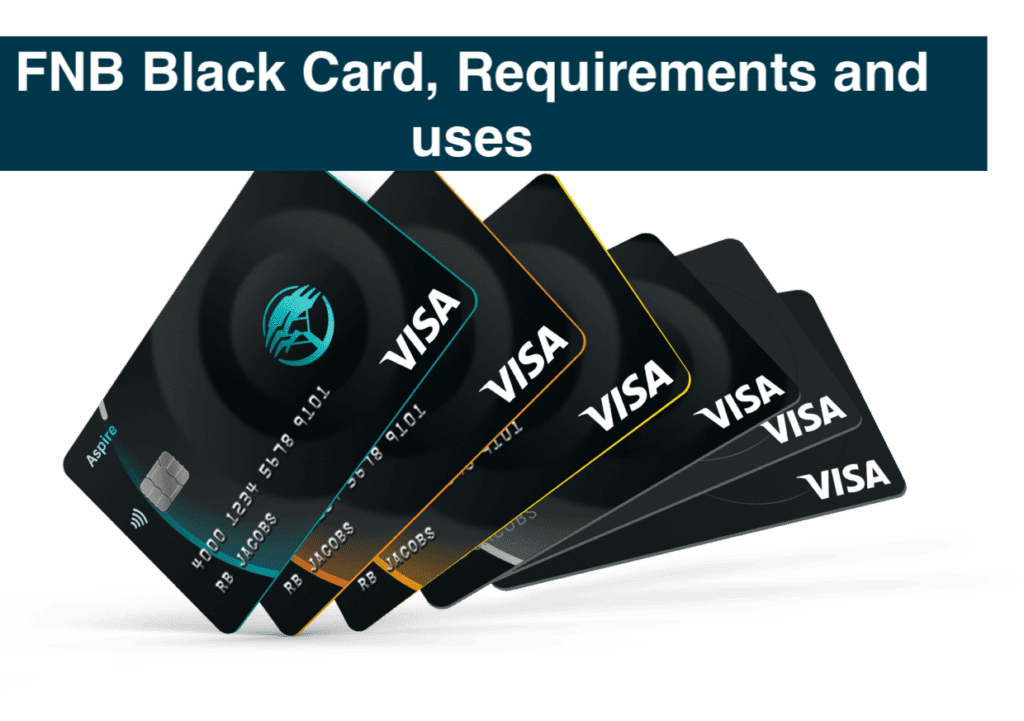 To be qualified to have access to FNB black card, the following requirement must be met:
First and the most important requirement is that you have to be an existing FNB customer to be able to apply for the black card. Once you are able to meet these criteria, you will need to provide proof of your income statements.
Secondly, you will need to provide an official letter from your local government council and a copy of your recent power utility bill.
A company with a good history with FNB is also required as they will serve as the sponsor.
Another important requirement is that the bank requires a minimum deposit of R15,000 and membership fee of more than R600 annually when applying for the card.
You must also have at least R750,000 in your premium account for a minimum of three months' period.
How It Works
FNB black card works just like any other FNB card, once you are able to meet the qualification or the requirement as explained above before applying for the card, which includes having more than R750,000 gross income in your premium account for a minimum of three months' period and a minimum deposit of R15,000.
There is no limitation to applying for the card either as a business owner or any individual as far as you can meet the demands. Once this basic requirement is met, the bank will issue the respective black card you applied for.
FNB black debit card can be used to pay large amounts and can also be used to withdraw or send large amounts unlike any other type of FNB debit card which can't perform such function at once. FNB black debit card does not require too much formality or paperwork which is quite different from the black credit card which requires documents detailing your earnings or income as proof and evaluation of credibility by the bank.
The card comes with a device known as the pin device that makes the transaction of funds easier and faster. Having this debit card makes it easy for customers to transact without having to move around with cash or cheque.
FNB black credit card offers an unlimited amount of reward points for every dollar spent. The best part about this credit card is that the points don't expire, it can be redeemed by buying merchandise or traveling anywhere in the world.
Other benefits attached to using this card include:
Payment of annual fee to primary users when specific criteria are met.
The interest repayment is low.
Availability of exclusive offers when using the black credit card at a retail store associated with First National Bank.