How to join the Nigerian immigration service recruitment 2022? In this article, we will discuss the Nigerian immigration closing date, Nigerian immigration service ranks, and the NIS recruitment portal 2022.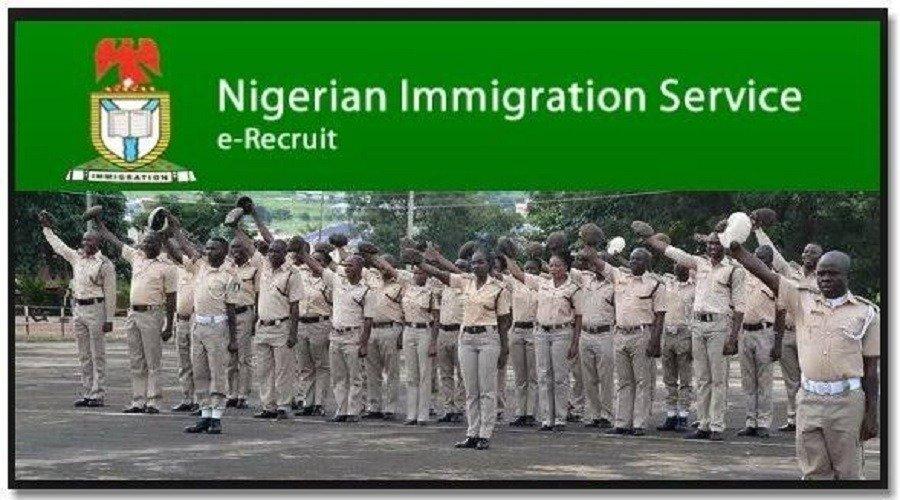 The Nigerian Immigration Service Recruitment is a much-awaited recruitment exercise; thousands of Nigerians look out for.
A statement released by the Civil Defence, Correctional, Fire, and Immigration Service Board (CDCFIB) formerly confirms the 2022 immigration service recruitment exercise. Mr. Sunday James, the service Public Relations Officer in a statement released on Friday in Abuja, made this announcement. Therefore, if you are wondering whether the Nigerian immigration form is out, it sure is. However, the entire recruitment form application is entirely online.
How Much Is the Nigerian Immigration Form?
The Nigerian immigration service form is completely free. If you have a Computer, you can even begin your application immediately.
Read more: How to renew your Nigerian passport
Vacancies For Nigerian Immigration Service Ranks
Nevertheless, bear in mind that there are three open ranks at the time and including positions for
Superintendent Cadre
Inspectorate Cadre,
And Assistant Cadre.
General Requirements to apply for the Nigerian immigration service recruitment
Applicants must be a Nigerian with National Identity Number
Should be medically fit and must pass a drug test
Should not be convicted of any previous criminal offence or a member of a cult group
Must obtain a certificate of medical fitness from any government hospital in Nigeria
Should be between the age of 18 and 30 exceptions of Doctors and Pharmacists that must not exceed 35 years.
Height is 1.60m for Females and 1.65m for males
Should not have less than 0.87m chest measurement for Men
Must be a computer literate
Please note: Any certificate not declared and accepted would not be accepted after the recruitment exercise.
PEOPLE NOT ALLOWED TO JOIN THIS EXERCISE
Individuals with misshapen limbs such as bent knees, k-legs, flatfoot, limb legs, bow legs, knocked knees, or deformed hands or fractures
Individuals with a speech impediment (dumb or stammering) or those with gross malformation of the teeth
People with amputations or physical deformities not mentioned
Individuals who are obese, or fighting chronic health challenges
People with defective eyesight such as one-eyed crossed eyed, or total blindness
Pregnant women should not apply
Specific Requirements for the Superintendent Cadre position
For Superintendent of Immigration (SI) CONPASS 11 Professional (Doctors)
Individuals must have a minimum of the first degree (MBBS) from a recognized institution in Nigeria
They must also have their NYSC discharge certificate or Exemption Certificate
For Deputy Superintendent of Immigration (DSI) CONPASS 10 Professionals
Individuals must have a minimum of first degree in Pharmacy from a recognized institution in Nigeria
They must also have their NYSC discharge certificate or Exemption Certificate
For Assistant Superintendent of Immigration II (ASI-2) General Duty, CONPASS 08
Individuals must have a minimum of first degree from a recognized institution in Nigeria
They must also have their NYSC discharge certificate or Exemption Certificate
Specific Requirements for the Inspectorate Cadre position
For Senior Inspector of Immigration (SII) General Duty CONPASS 08:
Individuals must have an HND from a recognized institution in Nigeria
They must also have their NYSC discharge certificate or Exemption Certificate
For Senior Inspector of Immigration (SII) CONPASS 08 Professionals (Nurse):
Individuals must be a double qualified and Registered Nurse.
For (Hi) Inspector of Immigration (II) CONPASS) 07 Professionals (Nurse)
Applicants must be a single qualified and Registered Nurse.
For Assistant Inspector of Immigration (All) CONPASS 06
Applicants must be holders of ND/NCE from any recognized institution.
Specific Requirements for the Assistant Cadre position
For Immigration Assistant III (1A-3) CONPASS 03 General Duty
Individuals must have SSCE, NECO, GCE O/Level with minimum o' four (4) credits in not more than 2 sittings, which should include English and Math
For Immigration assistant III (IA-3) Artisans and Drivers/Mechanics
Individuals must be holders of Ordinary Level SSCE, or its equivalents and appropriate Trade Test certificates
Immigration Recruitment Closing Date
The Nigerian immigration service exercise will only last for weeks. Therefore, applications that began on 16 March will end with the first week of April.
How to Apply Online for Nigerian Immigration Service Recruitment
You can register online fast and easy for the Nigerian Immigration service. Simply, follow the steps below:
Pre-registration
Next, select your preferred Cadre
Now read through the requirements and functions for the job.
When sure that you are qualified, select "Apply for this Job."
Now fill in your biometric information
Make sure you read the 'Terms and Conditions' and check the box to confirm that you have read and understood the terms.
Then, confirm that you are not a robot and select "Create account"
You will receive an email within minutes to verify and confirm your account
Click on the link sent to your email and you will be shown that your account has been verified
Next, go back to the login page, sign with your email and password to access the dashboard
Filling the recruitment form
Once you can access the Dashboard, you can now fill the recruitment form proper
Biodata
Fill in the biodata on this page, if you do not fill all relevant fields, you won't be able to proceed to the next section
You will also find a taskbar at the top right corner which shows whether your application completed or pending
Photo Upload
Next, upload your recent passport which should not be more than 200kB (600 X 600 pixels)

Acceptable picture formats include PNG, JPEG, and JPG

The photo should have a plain background and must be clear without filters or enhancements

Your photo must show your full face and shoulders focused entirely on the Camera

It must be in Portrait Orientation

Do not wear glasses and if you must cover your hair, adjust it to provide a comprehensive view of your face
NYSC/NIN Identification Entry
Now enter your NYSC certificated number and year you completed the training (for the Superintendent category alone)
Enter your preferred mode of identification, height, chest
Enter your National Identity Card Number
Qualifications
Next, fill your educational qualifications based on the position you are applying for
Note that you must fill employment history if you are applying for the Superintendent Cadre position ( make sure you only fill those relevant to the position)
Documents
Now, upload your documents, which include Indigene Certificate, Birth Certificate/Declaration of Age, Degree Certificate, WAEC, Health Certificate, etc.
Make sure all documents are not more than 200kb and should be in PDF format
Review Application
After making all uploads, you can now review your application
Make sure you carefully read through every section to make all possible corrections (please note that you can only apply once)
Final submission
Now read the Disclaimer Note and confirm by marking the box next to it
Click on Confirm Data to lock your data and submit
Remember, you cannot edit any information after clicking confirm data
After submission, you will be shown your recruitment identification slip.
Please print the slip or send it to your email for later printing.
Next steps – CBT practice
Following your application, you will be required to pass a Computer Based Test. The Date and Time for this test will be made available to shortlisted candidates.
And there you have it, everything you need to know about the Nigerian immigration service recruitment exercise 2021. Make sure you submit your application early enough to increase your chances of being employed. Avoid patronizing scammers. Please remember that the NIS recruitment portal for 2022 has changed.
You can only use the www.immigrationrecruitment.org.ng/ for your application.
If you have any more questions about the immigration exercise, please place your questions below.